Piston Pumps for Demanding Pressure and Vacuum Requirements
The GH range of articulating piston compressors and vacuum pumps from Rietschle Thomas are ideal for many heavy duty applications including ozone generation, cable pressurization, industrial cleaning equipment and beverage dispense.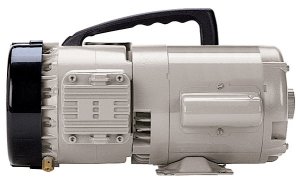 (Rietschle Thomas).
They are also used in compressed air systems for industrial, medical, dental, laboratory and water aeration applications.
GH series pumps deliver air flow to 147 l/min, pressure to 175 psi and vacuum to –930 mbar. Permanently lubricated and sealed bearings, cast iron cylinders and high strength stainless steel valves contribute to long, service-free life. An oil-less design ensures clean air flow. Pressure models include check and safety relief valves as well as inlet filters. Vacuum models include exhaust mufflers.
Continuous duty single phase of three phase motors are available from ¼ through ¾ HP to meet worldwide voltage requirements.
With annual sales of over two million units into more than 70 countries, Rietschle Thomas stands as the world leader in vacuum and pressure technology. Rietschle Thomas has been supplying custom and standard pumps and compressors for both air and liquid for over 5 decades. Rietschle Thomas products are used in a wide variety of applications including medical and pharmaceutical equipment, automotive, business machines, printing presses, packaging machines, environmental systems and vending products, among many others.