KNF Neuberger Launches New NPK 012 Swing-Piston Pump
When coming into close contact with medical devices, patients primarily expect these devices to be quiet and produce minimal vibration. For the manufacturers, size, weight and reliability also count — a lot of requirements for the integrated pumps. KNF addresses these demands with the newly developed NPK 012 swing-piston pump, offering an economical and high-performance solution.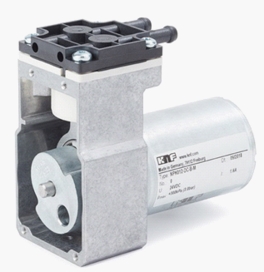 The new NPK 012 Swing-Piston Pump offers an economical and high-performance solution (Image: KNF Neuberger)
As a partner of the medical device industry, KNF took on the challenge of finding an economical solution that allows more leeway in particular for the manufacturers of hand-held devices for medically indicated aspiration. With the new NPK 012 swing-piston pump, the technology leader in the area of application-specific pumps and systems is introducing a compact, light-weight model that is both affordable and high performing.
In spite of its flow rate of up to 13.5 l/min, the NPK 012 has been cut down to nearly 30 percent shorter than previous models in its performance class. This also has a positive effect on the new pump's weight, bringing it down to 600 g and making this model perfect for mounting in hand-held devices.
The brushless DC motor allows for excellent control. With a low energy consumption of just 43 W, the NPK 012 builds up 2.5 bar of high, continuous positive pressure, and up to 5 bar during intermittent operation. The ultimate vacuum reaches 140 mbar abs. The NPK 012 delivers this high level of performance quietly and with minimal vibration.