PCVEXO-2007 – Russian forum for pumps, compressors and valves
The sixth edition of the Forum PCVEXPO/ Pumps. Compressors. Valves will be held on October 15 – 18, 2007 in Moscow.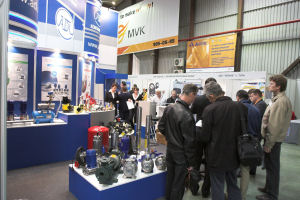 For the years of its functioning the Forum has gained international prestige: now it is the largest, high rank event in the Russian Federation dedicated to industrial pumps, compressors, valves, engines and drives. PCVEXPO-2006 hosted 459 companies from 24 countries of the world. A great deal of equipment and materials located in halls of Sokolniki Exhibition Centre draws thousands of attendees.
According to the 2006 results the Forum was attended by 13,996 of specialists. The electronic registration of attendees showed a good percentage of professionals (95%) who are regarded as target clients of the Forum. Attendees' profile is rather versatile. Most of them, over 40%, are specialists of the machine building industry. 15% - chemistry and petrochemistry. The total exhibiting area made up over 20,000 sq.m.
The annual growth of exhibitors by over 20% demonstrates the high appreciation of the exhibition results by the leading Russian and foreign companies. MVK International Exhibition Company has a wide network of representative offices in the main Russian regions and abroad: MVK-North-West in St.Petersburg, MVK-Ural in Ekaterinburg, MVK-Volga in Kazan, MVK-Siberia in Novosibirsk , MVK-South in Rostov-on-Don, MVK Messen GMBH in Germany, MVK Ltd. Canada and MVK-ISRA Exhibition LTD in Israel, which take great efforts in recruiting regional exhibitors and attendees to the Forum PCVEXPO. The Forum PCVEXPO has obtained the quality symbols of the International Union of Exhibitions and Fairs, Global Association of the Exhibition Industry and the sign of the independent audit carried out by FKM.
Business programme
PCVEXPO excels in comprehensive business programme. In 2007 the exhibitors and attendees will be able to take part in the following events: Seminar "Certification of products and quality management systems under the federal law "On technique regulation", Round table "Domestic compressors construction for gas industry", Awarding with a valve Oscar, Seminar "Does the Russian valve industry have the future?". Choice between Chinese valves and smart. Workshop on valve construction, Conference on sealing technique. The Forum co-organizer– Russian Pump Manufacturers Association– will for the second time hold the International scientific- technical conference "Ecopump.ru" 2007. Pumps. Efficiency and ecology".
Your advantage at the PCVEXPO
Direct and quick access to the fast growing Russian market– the ideal platform for the search of partners or representatives and accurate analyses of the potential development in the Russian market concerning Pumps, Compressors, Pneumatic, Valves, Actuators and Engines.
Information about the company
MVK International Holding Company is a reliable and effective assistant to your business, a perfect platform for demonstration of your achievements and possibilities. It guarantees a successful start and active promotion of the trade mark at the vast territory of Russia and foreign countries. Detailed information about PCVEXPO-2007 is available on www.pcvexpo.ru