Industrial Pumps Market to Reach USD 99.29 Billion by 2032
The global Industrial Pumps Market size was USD 6 Billion in 2022 and is expected to reach USD 99.29 Billion in 2032, and register a rapid revenue CAGR of 5% during the forecast period. Increasing urbanization and industrialization and rising demand for industrial pumps that are energy-efficient and environment-friendly and water and wastewater treatment are major factors driving market revenue growth.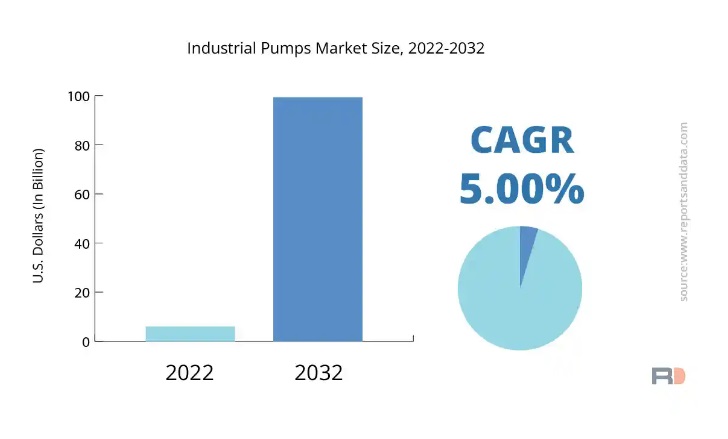 Image source: Marketysers Global Consulting LLP
Need for industrial pumps, which are used to carry water, slurry, and other fluids, is increasing as requirement for water and wastewater treatment in the industrial sector is rising. In addition, public awareness about value of clean water and strict regulatory restrictions on the discharge of wastewater into water bodies are rising demand for water treatment and wastewater treatment. In the water and wastewater treatment business, industrial pumps are widely utilised for various processes such as disinfection, coagulation, flocculation, and sludge dewatering.
Top Leading Players:
Xylem Inc.
Grundfos Holding A/S
KSB SE & Co. KGaA
Sulzer Ltd.
Ebara Corporation
Danfoss A/S
ITT Inc.
Wilo SE
Flowserve Corporation
Weir Group Plc
Further Key Finding from the Report Suggestion:
The operation of an intelligent motor-pump system in an integrated, coordinated manner can achieve unprecedented and important capabilities for protecting critical processes, process equipment, operations personnel, and the environment. This system also provides a basis for dynamic optimization of critical operating and financial objectives such as long MTBF, low life-cycle cost, or low cost per gallon pumped. Future intelligent systems will provide the basis for next generation CBM systems, future distributed intelligent systems, and autonomous, agent-based systems. These emerging trends are driving increasing automation in the industry
Centrifugal pumps hold a major share of the Pump Type segment and are expected to maintain this leading position in the Industrial Pump industry during the forecast period
Water and wastewater treatment plants have a very large market share in the End Use segment. Increase in desalination efforts and regulations curtailing the dumping of industrial wastes will enhance the demand for industrial pumps in this sector
The construction sector is forecasted to have a high CAGR of 6.1% throughout the forecasted period. The construction boom being seen in the APAC region is pushing the demand for industrial pumps from this sector
Oil and Gas occupy a significant market share and is forecasted to generate high revenues for the industrial pump market
Growth in process manufacturing activity will result in an increase in demand for positive displacement pumps
The global Industrial Pumps Market is segmented into:
Type Outlook (Revenue, USD Million; 2019-2030)
Centrifugal Pumps
Reciprocating Pumps
Rotary Pumps
Diaphragm Pumps
Capacity Outlook (Revenue, USD Million; 2019-2030)
Small Capacity Pumps
Medium Capacity Pumps
High Capacity Pumps
End Users Outlook (Revenue, USD Million; 2019-2030)
Construction
Water and wastewater
Chemicals
Oil & Gas
Power Generation
Others
Regional Outlook:
North America (U.S.A., Canada, Mexico)
Europe (Italy, U.K., Germany, France, Rest of Europe)
Asia Pacific (China, India, Japan, South Korea, Australia, Rest of APAC)
Latin America (Chile, Brazil, Argentina, Peru, Rest of Latin America)
Middle East & Africa (Saudi Arabia, U.A.E., South Africa, Rest of MEA)