No problems with leakage anymore: the Spandau PXA immersion pump
With the Spandau PXA immersion pump Willy Vogel AG came to the fair METAV in this year. What's special about the PXA is its sealless design.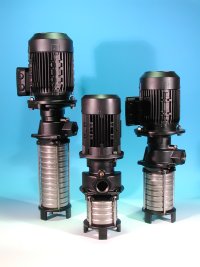 (Coolant pumps, Group PXA. Source: Willy Vogel AG)
Where there's no seal, there can't be any wear. The shaft runs through a gap bush below the reservoir cover. Any fluid escaping through the gap is fed right back into the reservoir.
Long service life and flexible design of the PXA result into low life cycle costs:
Thanks to its modular design and the use of standard motors it's possible to configure the pump for the required delivery rate and immersion depth
Small amount of space required since it's built into the reservoir
Very smooth running. Few vibrations due to separation of the motor and pump shaft
Simple, easy startup since the pressure port and venting screw are located above the reservoir cover
Easy to service. Easy to change the motor without relieving the hydraulic system - without removal of the pump.