No Need for Compromise When Pumping Wastewater
Following several months of pre-launch buildup, Grundfos has now released the S-tube impeller.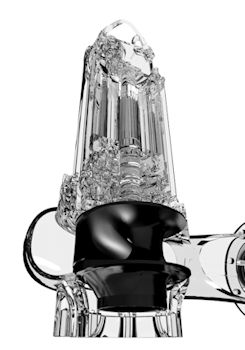 Grundfos
Grundfos' channel impeller, the S-tube, offers greater hydraulic efficiency than its peers without compromising free passage. While the nature of wastewater presents difficulties with sealing, vibrations, abrasive wear and clogging, the S-tube meets and surpasses all these challenges. Its design eliminates edges, dead zones and cutting functions that wear over time, relying instead on a patented labyrinth and sealing system that will provide years of trouble-free operation.
The impeller's simple tube shape eliminates the need for advanced and costly add-on assemblies that are designed to cut, shred or treat the wastewater as it flows from the pump. Meanwhile, a unique new balancing method results in less vibration and noise. Smooth, quiet operation is indicative of greater reliability and a longer lifespan for bearings, shaft seals and other components. The S-tube's innovative hydraulic design ensures less abrasive wear, enhances anti-clogging capabilities and reduces costs over time.
As the S-tube proves, compromise is not an option for Grundfos. Our dedication to improving hydraulic, electrical and mechanical efficiencies is made possible by a focus on the technology areas that resolve very real issues for customers. The S-tube can be seen at WEFTEC on Grundfos booth 3027.