New Plastic Impeller for Zuwa Impeller Pumps
Zuwa Impeller pumps are now available with a new plastic impeller extending the pumps' range of applications. The new impeller is made of a special plastic compound.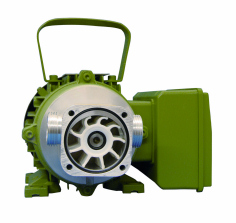 Impeller Pump with new plastic impeller (Photo: Zuwa)
The polyamide shaft bearing and this impeller are resistant to a wide variety of chemicals not compatible with rubber or Viton impellers.
This new impellers do not only extend the range of applications but also show excellent results with regard to resilience and durability: They are extremely resistant to wear and tear.
Like all Zuwa impeller pumps the versions with plastic impellers are dry self-priming to a maximum depth of 3 metres and need no initial filling prior to operation. They are capable of transporting solid particles and air bubbles (slurping action) with the fluid. The maximum flow rate is 90 litres per minute at a working pressure of 5 bar. The fluid temperature should not exceed 60°C.
Zuwa presents the new impeller pumps at the IFAT ENTSORGA in Munich from September 13 to 17 in hall A6, booth 545.