New Packaged Sewage Pumping Stations
At this year's ISH trade fair, KSB Aktiengesellschaft, Frankenthal, Germany, will present sewage pumping stations with a newly developed collecting tank to complement its current product range. The tank engineered with the help of the finite element analysis (FEA) is of very low weight, which is attributable to its diameter of just 800 mm and its overall design.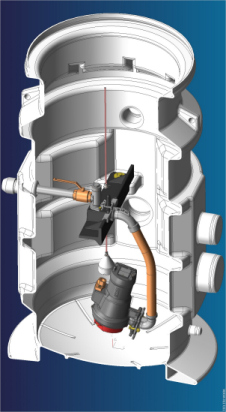 Sewage pumping stations featuring the newly designed CK 800 collecting tank (KSB Aktiengesellschaft, Frankenthal)
This lightweight feature makes assembly of the ready-to-install tank easier, saves installation costs and ensures reliable planning.
The tank made of high-strength plastic material features reinforcing ribs, transport lugs and cross beam fitting points as well as a very wide foot, the latter securing the tank against uplift up to an installation depth of 2.75 m. A standardised shape in the area where the cover is mounted allows loads up to vehicle load class B or even D on option.
Thanks to the dished bottom, the pumps can drain the sewage almost completely, which avoids all types of deposits. As a result of the modular design, the tank height can be extended continuously from 1.75 m to 2.75 m and thus optimally adapted to any installation situation. A further benefit here is the variety of inlet connection and cable entry options.
All components installed, such as cross bar, pipework, coupling as well as non-return valve and isolating valve, are made of corrosion-resistant material. Visual monitoring of the coupling is possible since via an attachment device allowing the pumps to settle at their centre of gravity the pumps are coupled to an above-water cross bar. This makes for straightforward installation and maintenance. The ready-to-install tank can accommodate various pump sizes (pumps with or without explosion protection) thus making optimum matching to the sewage volume possible. A DIBt approval (Deutsches Institut für Bautechnik) has been applied for.