New FLUSH PRO 90 Filling and Flushing Station
With the introduction of the FLUSH PRO 90 Zuwa starts to market a new, extra powerful filling and flushing station. The new device was designed with a focus on large solar collector systems, ground collectors or ground probes.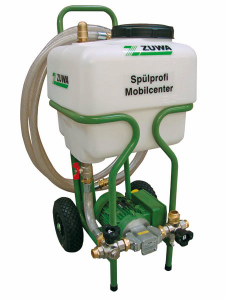 FLUSH PRO 90 (Photo: Zuwa)
With the high flow rate of 90 litres per minute combined with huge 1" hoses high volumes of brine can be injected into collectors or probes fast and free of air enclosures. The tank contains remarkable 50 litres.
To mix water and glycol on site two 150 litre containers are available as an accessory. They are linked to the two multifunctional valves. The pump mixes the fluid and transfers it into the collector.
The rugged pump easily transports solids contained in the fluid. Heavily stained brine should be pumped in combination with a special single use filter, available as an accessory.
A pressure relieve valve makes for comfortable removal of the hoses after use.