New Distributor for Jabsco and Rule Branded Marine Pumps in Iceland
Xylem recently announced that Ásafl ehf. has become an official distributor of its Jabsco and Rule branded marine pumps and equipment. Under the exclusive agreement, Xylem will supply Ásafl ehf. with its Jabsco and Rule product lines for distribution to customers in Iceland.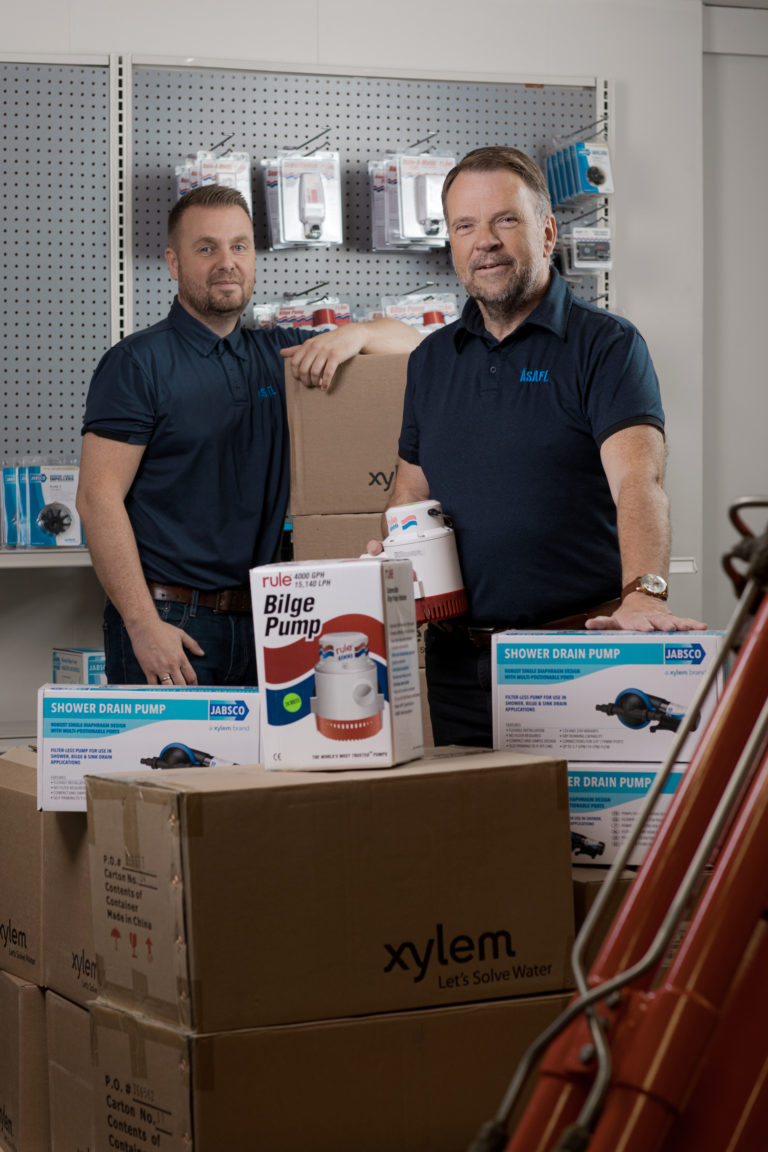 : Páll Bragason and Örn H. Magnússon at Ásafl ehf. (Image source: Xylem Inc., Ásafl ehf.)
Established in 2007, Ásafl ehf. specializes in the sale and service of machinery and equipment for fishing boats and small vessels, supplying marine engines, pumps, propellers, generators, gears and stabilizers, in addition to dock and boat cranes. The company started trading as the main marine equipment supplier to renowned Icelandic boatbuilder Trefjar, before expanding its business to include the supply of pay loaders, mini excavators, trailers, compactors, compressors and cranes to commercial contractors.
The Jabsco and Rule brands represent a legacy of marine innovation that spans almost 90 years, and account for millions of quality marine products sold, used and specified around the globe. Jabsco is the leading supplier of freshwater pumps, waste systems, ballast pumps, boat lightings and general-purpose pumps for marine use, selected by the world's best-known boat builders and marine engine manufacturers. With an extensive range of submersible bilge pumps and accessories, Rule offers the broadest range of bilge pumps available today and is trusted to keep boats dry and safe in the most arduous conditions.
Commenting, Matt Faulks, Area Sales Manager at Xylem's Specialty Flow Control business said, "Ásafl ehf. has deep expertise in serving the Icelandic marine market, offering an unrivalled portfolio of marine equipment to small boatbuilders and operators. Now, Ásafl ehf. will further strengthen their position as a leading supplier of high-quality products in the marine industry through offering Xylem's renowned Jabsco and Rule branded pumps."
Commenting, Örn Magnússon, Managing Director at Ásafl ehf., said, "We're proud to partner with Xylem and to bring the Jabsco and Rule product ranges to Iceland, a region renowned for innovation in the marine sector. Although our business has expanded to include the sale of machinery to commercial contractors, our biggest area of focus has always been the sale and supply of marine products. This exclusive partnership will allow us to deliver more choice, innovation and even better value to our marine customers."