New Diaphragm Metering Pumps SP 570 EC-LD
Schwarzer Precision has developed a completely new category of pumps to series-production readiness: the new diaphragm metering pumps SP 570 EC-LD combine high metering precision with low manufacturing costs.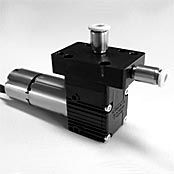 New Diaphragm Metering Pumps SP 570 EC-LD (Image: Schwarzer Precision)
The intelligent design and the flow-optimized valve technology of the new SP 570 EC-LD allows linear control of the delivery volume over a wide control range. High repeatability and self-priming even after running dry are other advantages of this design. Tubing for various connectivity options (push-in fittings, hose barbs, O-rings) are available.
By specific over-sizing of mechanical wear parts a long durability is achieved. Resistant materials are available for aggressive media. The pumps are available with many different motors: from low-cost iron core motors to long-life brushless motors, with analog or PWM control.