New Catalog of Laboratory Pumps and Systems
KNF Lab – the laboratory division of KNF Neuberger – announces the enlargement of their catalog of pumps and systems, including the addition of several new products.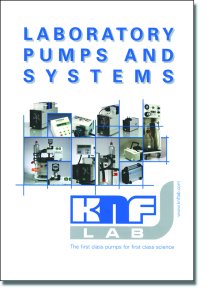 Customers who need vacuum or pressure will find what they are seeking in the new catalog, as will lab workers who need to pump neutral, corrosive, or aggressive gases or liquids. The product line of KNF Lab ranges from vacuum pumps and compressors, through transfer and metering pumps, to complete vacuum systems (single and multiple-station systems).
The new catalog is well organized and provides a detailed overview of the extensive product line, including important technical specifications, including information about technology and service. The catalog is available in both German and English.
KNF Neuberger GmbH has been a major manufacturer and distributor of diaphragm pumps for more than forty years. KNF Lab is the laboratory division of this global company.