New Canned Motor Pumps According to API 685
In spring 2010, Nikkiso-KSB launched a new pump type series for use in the chemical and petrochemical industries.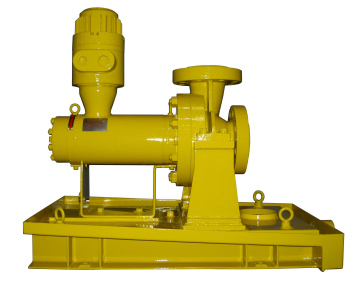 The new canned motor pumps to API 685 by Nikkiso-KSB (Image: KSB)
The pumps meet the stringent requirements of API 685 standards. The type series comprising 27 sizes is designed for a minimum of 20 years of operation in a refinery under heavy-duty conditions and for pressures of at least 40 bar. The casings with their centreline pump feet as well as the flameproof motor housings are provided with a corrosion allowance of three millimetres. Throttle rings on the front and rear shrouds of the impeller as well as balancing holes, together with a hydraulic pressure balancing chamber, make sure that the axial forces are absorbed. The low-noise, up to 132 kW motors are fitted with a particularly corrosion-resistant and energy-efficient can made of high-grade chrome nickel molybdenum alloy. Since the new pump sets feature in addition a flameproof motor housing, they have a true second outer shroud providing safety in case of damage to the can.
The pump shaft bearings are made from specially developed composite material of silicon carbide (SiC) and graphite. The product-lubricated plain bearings combine the good mechanical properties of SiC and the remarkable anti-seizure properties of graphite. Thanks to the bearing design, the pumps require no maintenance for three years in a row if operated properly. The new type series generates a maximum flow rate of 350 cubic metres per hour and a maximum discharge head of 200 metres. The maximum permissible fluid temperature is +450 °C. With permissible ambient temperatures ranging up to -50 °C, the pump sets can also cope with rough climatic conditions. Other than mag-drive API pumps, these pump sets can be installed vertically, i.e. in a space-saving manner, without the need for technical modifications. Since the pumps are of close-coupled design, they need not be aligned prior to commissioning. A multitude of extra features, such as cooling jackets or a monitoring unit developed by Nikkiso, can be supplied as an option.