New AquaCharge Xtreme Portable Pump Packs a Punch
Rule, a Xylem brand, announces the new AquaCharge Xtreme, a fully submersible, compact, portable pump with the muscle to move water over 17 feet straight up from basement to second story, from bilge to deck, and more.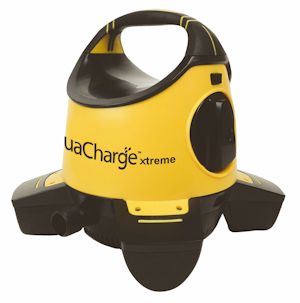 AquaCharge Xtreme portable pump (Image: Rule)
Water is heavy, weighing in at eight pounds per gallon, which means AquaCharge Xtreme makes tough water moving chores, like draining a hot tub or flooded basement, much easier.
"We built a pump that packs a punch and is safe to use in nearly any situation," said Jeff Schopperle, product manager at Xylem. "AquaCharge Xtreme is ideal for the do-it-yourself homeowner, the professional plumber or boating enthusiast, anyone who needs to get a lot of water out quickly," added Schopperle.
Fully submersible to six feet and measuring 9.5 inches high by 10.5 inches wide, AquaCharge Xtreme arrives in a sleek, tough, bright yellow and black ABS plastic jacket. It features an easy "On/Off" control knob and a removable strainer that makes for trouble-free cleaning of the pump once water has been moved away. And with its powerful and rechargeable NiMH battery, the cordless AquaCharge Xtreme can move up to 600 gallons of fresh or salt water on a single charge.
AquaCharge Xtreme connects easily to any standard garden hose, and its innovative water handling technology is a perfect match for pumping water at the rate of up to 500 gallons per hour from hot tubs, pool covers, basements, boats, sinks or anywhere water needs to be removed.
AquaCharge Xtreme is a top performer when it comes to safety as well. Its rechargeable battery takes away the need to use electric power when removing water from a wet and potentially hazardous environment. It's truly portable so there's no more plugging in an extension cord and finding it's too short to reach from pump to power source either. AquaCharge Xtreme can even function as a sump pump when the power goes out, and it really delivers in just about any marine situation where fast pumping power is a must.
The new AquaCharge Xtreme is backed by the Rule brand of DC pumps, a brand enjoying over 45 years of operational excellence with over 15 million units in use in harsh environments.