Mouvex Abaque Series Pumps Now Available with Hygienic Hose Options
Mouvex is pleased to announce that its Abaque Series peristaltic (hose) pumps are now available with FDA and EC 1935/2004 certified hoses. By incorporating these new hygienic hoses into the design, Abaque Series pumps are now ideally suited for the production of food and beverage products that require strict hygienic standards.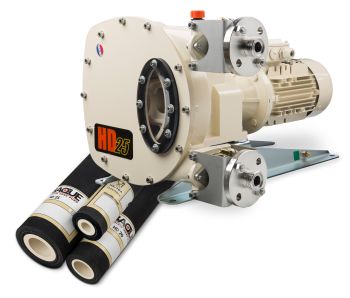 Mouvex
Abaque Series pumps meet the challenging requirements for the food and beverage industry thanks to a seal-free design that eliminates leaks. The design of Abaque Series pumps also eliminates product contamination since the pumped product is kept completely in the hose and is not exposed to the moving parts of the pump. Additionally, the smooth operation of Abaque Series pumps allows them to handle the shear-sensitive products with delicate particles, often found in food and beverage operations, with ease. These self-priming pumps can run forward or in reverse and offer suction-lift capabilities to 9 meters (25.5 feet), as well as the ability to run dry without adversely affecting performance, pressure and accuracy (no slip).
Abaque Series pumps are available in 13 different sizes – from HD10 to HD100 – with flow rates to 55 m3/h (238 gpm) and pressures to 16 bar (218 psi). In addition to the new hygienic hoses, other Abaque Series hose options include natural rubber (highly resilient with excellent abrasion resistance and strength), Buna-N (highly wear resistant to oily products), EPDM (high chemical resistance when handling concentrated acids, alcohols and ketones) and Hypalon® (resistant to chemicals, temperature extremes and ultraviolet light).