Major North West Hospital Receives Cold Water Booster Set Conversion
When engineers from Prestwich based cold water booster specialist, Pressboost, attended a failing booster unit at this large hospital, they quickly determined it was coming to the end of life. The set was over 25-years old and had developed a multitude of problems.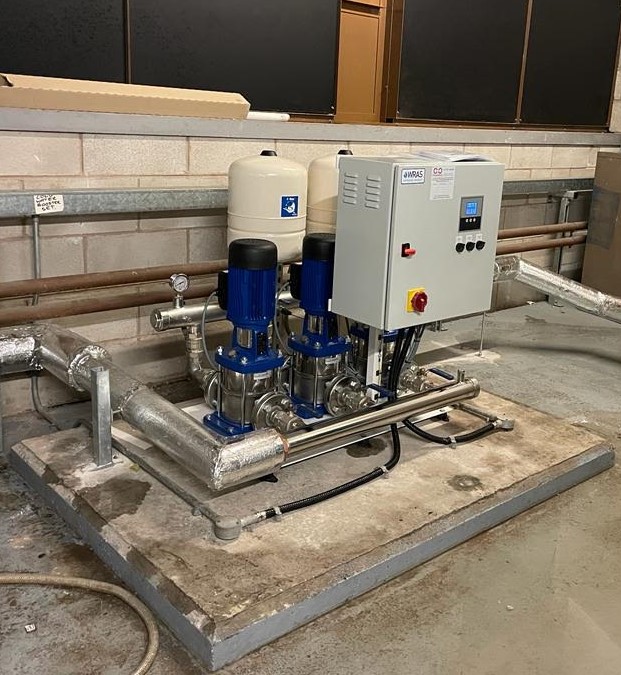 (Image source: Stuart Turner)
The pump accumulator vessel had failed, one of the pumps had stopped, the controls were faulty and required complete overhaul and the associated pressure reducing valves had also failed. As a result this system endured constant issues with over pressure and intermittent water outages.
On consultation with the customer, it was agreed that the time had come to upgrade the existing set to variable speed and bring it into the 21st Century. The pressure regulating valves, which had failed anyway, would no longer be necessary with the conversion to variable speed and so were removed. This would create a much more stable system pressure and remove the vast fluctuations in pressure that they has been experiencing, whilst also removing two assets that would continue to require ongoing maintenance.
This is a critical booster set feeding a vital part of a hospital, and as a result it was crucial to the client that whatever was installed was highly reliable. The onsite maintenance team also wanted to retain some of the functionality they had enjoyed with the previous booster set.
The Pressboost engineers quickly determined that a Stuart Turner Aquaboost MAB booster set would provide the ideal solution. Not only is the product Regulation 4 compliant, as certified by WRAS, the onsite team were able to retain the Hand/Off/Auto switches on the control panel for their PPMs, whilst gaining increased functionality from the controller. Furthermore, the numerous fail-safe measures that are built into the Aquaboost MAB, such as low level protection, soft start feature, and volt-free contact for BMS, provided the installation engineers with the confidence that the set would provide the reliability the customer required going forward.
The upgrade was carried out by the Pressboost team through the night, whilst the hospital was at its lowest occupancy, with the water being fully restored by 4.00am.