New Cat 5 Booster Set Delivers High Performance in a Compact Form
In an addition to its Aquaboost range of cold water booster sets, Stuart Turner has launched the Aquaboost Aquabreak AB5 Cat 5 booster set.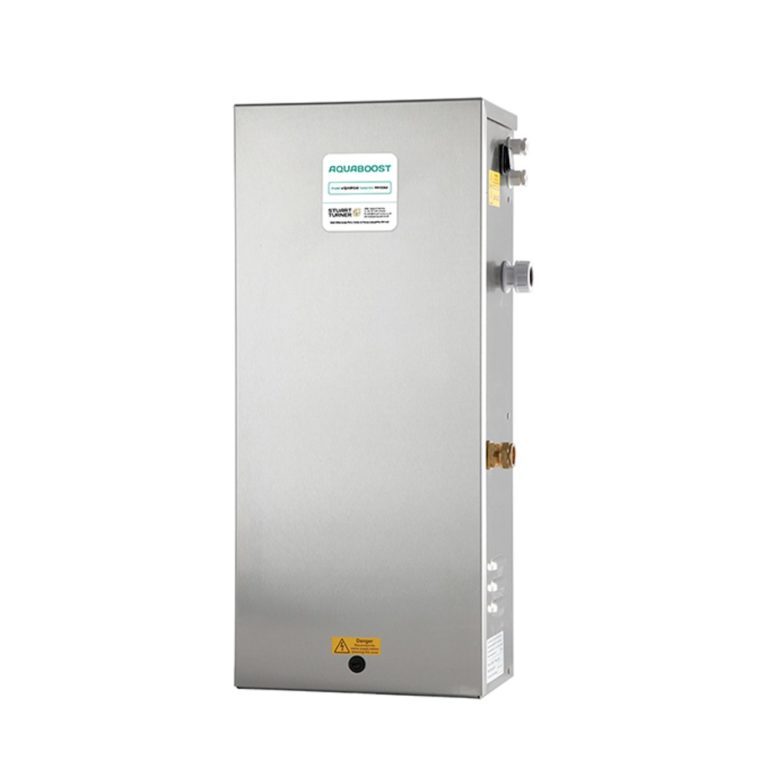 • The Regulation 4 approval-pending Aquaboost Aquabreak AB5 is ideal for wash-down applications. (Image source: Stuart Turner Ltd)
Designed to meet the requirements of Fluid Category 5 as described in Schedule 1 of the water supply regulations, the Aquaboost Aquabreak AB5 includes specific features to prevent water supply contamination. The Aquaboost Aquabreak AB5 offers backflow protection using a Type AB air gap. This gap is designed to prevent the inlet from ever being able to become submerged, which could lead to the contamination of the mains water supply in the event of a backflow pressure drop.
The Aquaboost Aquabreak AB5 employs is a complete, all-in-one single outlet booster set incorporating a single pump, pressure sensor, controller, control vessel, non-return valve and a 5l (nominal) break tank fitted with a ½" solenoid valve and strainer. The Aquaboost Aquabreak AB5 can provide a maximum pressure of 4.5 bar and a maximum flow rate of 26l/min.
The solenoid valve supports a faster inlet flow which can quickly fill the break tank and enable the Aquaboost Aquabreak AB5 to achieve its impressive specifications in a compact unit which is durable thanks to its 304 stainless-steel enclosure.
The Category 5 compatibility of the compact and wall-mountable Aquaboost Aquabreak AB5 makes the booster set ideal for applications involving fluids which present a serious health hazard. This includes use in processing plants, slaughterhouses, mortuaries, laboratories, stables, kennels, waste bin stores and wash-down sites.
The Aquaboost Aquabreak AB5 employs a Regulation 4 certified Stuart Turner Monsoon pump which offers dry run protection. The entire device is currently going through the Regulation 4 approval process with both KIWA and WRAS, which, when confirmed, will enable it to meet the requirements of project specifications which call for these important product certification credentials.
The Aquaboost Aquabreak AB5 is competitively priced and is available ex-stock.