Level Transmitter Allows Non-Contact Measurement in Tanks
WALCHEM offers the WLSX level transmitter. The WLSX level transmitter allows continuous non-contact ultrasonic level measurement in liquid storage tanks up to 35 ft (10.7m), it is ideally suited for challenging corrosive, coating, or waste liquids.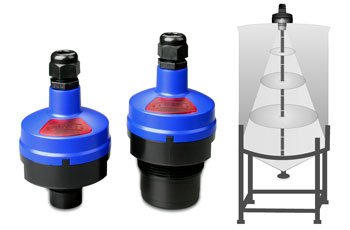 (Walchem Corporation).
The compact, corrosion proof package is completely sealed and stands only 3 in. (76mm) above the top of the tank.
The sensors are two wire transmitters that are UL, CSA and CE approved. The WLSX can be installed and calibrated in minutes utilizing the calibration wire and a flashing LED that provides calibration feedback.
The WLSX is a perfect level sensor for the Water and Waste Water Treatment industries. The WLSX - 007 will cover 55-gallon drums, tote bins, day tanks and bulk tanks up to 1000 gallons and lists for $495. The WLSX- 035 is ideal for bigger applications such as bulk storage and lists for $795.
The WLSX is another example of Walchem's commitment to technology and innovation. Walchem Corporation manufacturers a broad line of metering pumps and analytical controls for the water and wastewater industry.