KSB Inaugurated New French Production Facility
Dr Buthmann, Member of the Board of Mangement of KSB Aktiengesellschaft, celebrated the inauguration of a new production facility jointly with representatives from the world of politics and employees from the La Roche Chalais and Gradignan locations.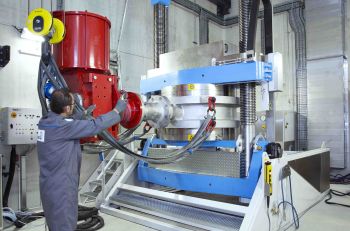 KSB expanded its production capacities for liquefied gas butterfly valves at its La Roche Chalais location in western France. (Image: KSB Aktiengesellschaft)
The 4,400 square metre building at the La Roche Chalais location in western France accommodates new machining and welding equipment as well as test facilities for production. The production facility is exclusively designed to manufacture triple-offset high-performance butterfly valves of sizes up to DN 1200. These valves are mainly used in liquefaction, gasification and natural gas transport. They are employed on off-shore platforms or factory ships and in on-shore production facilities. Almost 60 percent of the globally operating liquefied gas tankers are equipped with valves from KSB's French La Roche Chalais location. It took just under two years to construct the new production facility. With this investment, KSB seeks to consolidate and expand its leading position on the global cryogenic valves market.