KSB at ACHEMA 2006
At this year's ACHEMA, KSB presents various new products in many areas. A new chemical pump, the "SalTec" system for water desalination using reverse osmosis and the latest generation of the diagnostic system PumpExpert ...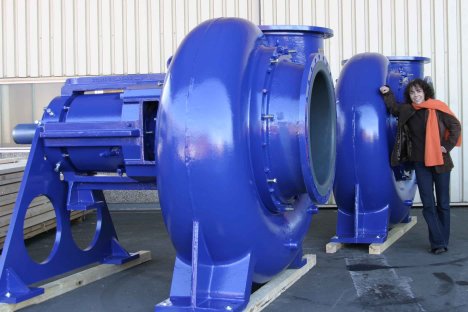 The ceramic containment shroud for KSB's mag-drive Magnochem eliminates the problem of "eddy currents" (photo: KSB).
... are only a few of the products you can read more about in the following preview.
New standardized chemical pump
KSB is going to present the latest model of the CPK standardized pump. The pump is now standard-equipped with stronger shafts and larger sized ball bearings. This design ensures a longer service life and thus reduces life cycle costs since the operators incur less costs for maintenance and repair. For special applications, different CPKN variants are available. These will also transfer media requiring heating or cooling. CPK is one of the most important products for process engineering applications in the pump manufacturer's portfolio. With a proven track record of more than 200,000 units sold, it ensures transport of almost all fluids needed by process engineers for the production of chemicals, synthetics and pesticides. In order to reduce spare parts inventories, many components of the new version are compatible with the previous model.
Ceramic shroud keeps fluids cool
KSB will be showcasing a ceramic shroud for the mag-drive Magnochem type series. It is characterized by high mechanical strength and good wear properties. The shroud is non-conductive and non-magnetizable. So there are no heat losses that require complex heat dissipation measures, or cause undesirable physical or chemical reactions in the fluid handled. The ceramic containment shroud is available for coupling sizes with a diameter of 110 mm. It is designed for easy replacement of standard "Hastelloy" metal shrouds. Plant operators can simply retrofit it in pumps already installed.
Alternative to more expensive special materials
In the field of flue gas desulphurization technology (FGD), special KSB pumps are part of the standard equipment of many power plants around the world. KSB introduces a new pump variant featuring a material that has been further improved. In the new KWPKC flue gas scrubber pump, all wetted parts are coated with the wear-resistant CeramikPolySiC material. This, alongside impellers made from NORIDUR®, makes these pump sets highly durable and eliminates the need for employing pump sets made entirely of special alloys.
Y-valves for thermal oil systems
As to industrial thermal oil system applications, KSB will showcase its NORI 40 bellows-type valves and strainers made of steel at this year's ACHEMA. Thanks to their cast Y-bodies' hydraulically optimized flow profile, the new valves allow energy-efficient design of thermal oil systems. All valves are standard equipped with position indicator, locking device and travel stop. Up to size DN 100, a standard throttling plug enables both shut-off and throttling. The strainers are made of the same bodies as the valves and are equipped with a drain plug as a standard and a magnetic insert on option. NORI 40 valves meet the requirements of the Pressure Equipment Directive and are designed for pressure class PN40.
Energy-efficient reverse osmosis process
For water desalination with the help of the reverse osmosis method, KSB introduces its "SalTec" system. The system utilizes hydraulic power transmission to significantly reduce energy costs compared with conventional solutions. The key element is a pressure exchanger in which the energy of the concentrated brine is transferred directly to the raw seawater without mechanical transformation. A high-pressure pump provides the inlet pressure that is needed to operate the reverse osmosis process. The remaining concentrated brine is discharged from the pressure vessel at high pressure and passed through the pressure exchanger where its pressure energy is transferred directly to the incoming raw seawater. A booster pump then transfers the latter to the membranes. This process prevents losses and requires a lower energy input per cubic metre of desalinated water. An electronic control system records all operating modes of the higher-level reverse osmosis (RO) system and adjusts pump and pressure exchanger control as required.
Diagnostic system helps avoid damage
The KSB Group will also be presenting the latest generation of its PumpExpert diagnostic system. This tool continuously monitors and analyses all significant pump and plant process parameters. Fields of application are industrial and chemical processes. The system provides information on all critical data and events, enabling the operator to intervene at the first signs of an impending failure and thus prevent damage to the equipment. PumpExpert monitors fill levels, bearing and motor temperatures, output, suction and discharge pressures, pump vibration characteristics and other performance data. The system can also detect changes in plant operating cycles. Where critical processes are involved this results in improved safety, reliability and availability of pump and plant. The system's user-friendly display and control panel enables intuitive operation. Communi¬cation options include an infrared PDA interface or permanent field bus data transfer. PumpExpert is compatible with a wide range of pump types and makes and with almost all commercially available sensors.
Vary speed, reduce costs
KSB stand visitors can check out an attractive solution for cutting down on energy costs: the new PumpDrive, a motor-mounted variable speed drive for centrifugal pumps. Employing pump sets whose flow rate can be matched to actual requirements could help companies save billions of kilowattt hours of energy per year. The PumpDrive's "piggyback" design offers many advantages.
Unlike ready-to-use integral motors, the new PumpDrive allows the integration of all motor brands specified in plant owners' works standards. Plant owners or operators are offered a complete pump set consisting of pump, motor and frequency inverter. Everything needed for commissioning once the power is turned on is set at the factory.
Reliable cooling technology ensures long service life
KSB will present its Amarex KRT submersible motor pumps. Designed for handling industrial waste water, the pump sets feature a closed jacket cooling system around the motor. Thanks to the closed cooling jacket, the motor heat is dissipated by the fluid handled, whether the motor is submerged in the fluid or not. A separate water/glycol circuit transports the heat from the cooling jacket to the fluid-cooled section of the pump casing. As there is no hydraulic connection with the fluid handled, the cooling circuit cannot be contaminated. Thanks to their reliable cooling technology and motors in thermal class H, these pump units provide smooth, long service and thus entail low operating costs. The new models are suitable for both dry- and wet-well installation. Optional equipment for early failure detection and remote monitoring (PumpExpert) makes for economically efficient pump operation and reduces the number of staff required for servicing.