KBL Receives Factory Mutual (FM) Certification for Valves
Kirloskar Brothers Limited has received the Factory Mutual (FM) approval certification for Gate Valves in the size range of 50 to 250 mm.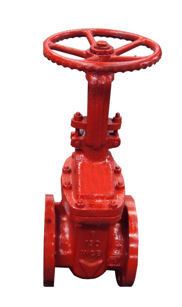 FM approved Gate Valve (Image: KBL)
Factory Mutual (FM) is world's premier third party testing and certification agency for fire protection and loss prevention products.
KBL has now emerged as India's first valve manufacturer to get the Certificate of Compliance from Factory Mutual for its fire service water control Gate valves in the size range of 50 to 250 mm. State-of-the-art facility of Kirloskar Brothers Limited at Kondhapuri near Pune in India has a capability to manufacture industrial and waterworks valves up to 5000 mm.
Mr. Jayant Sapre, Director, Kirloskar Brothers Limited said, "As a company, our focus is to deliver innovative products and services to our customers and meet their needs and demands. This Certification is another step towards delivering the best to our customers. I am sure this will further strengthen our position in the fire-fighting segment as we can now offer extended package".
With this approval certification by FM and in adherence with usage guidelines, KBL is now enlisted on FM Global website in conjunction with Valves and Pumpsets manufacturing.