KBL Launches Innovative Design Tamper Proof Kinetic Air Valve
Kirloskar Brothers Limited (KBL) launched its innovative product - Tamper Proof Kinetic Air Valve at its state-of-the-art valve manufacturing facility in Kondhapuri near Pune in India.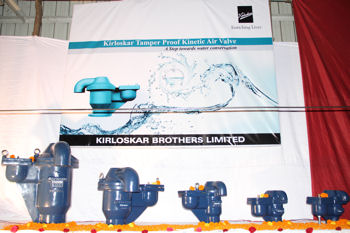 Kirloskar Brothers Limited
The launch was performed at the hands of Mr. P. B. Tupe, Additional City Engineer - Pimpri Chinchwad Municipal Corporation and Mr. Vinod Bodhankar, President – Jalbiradari Pune District and a renowned water conservationist. Many esteemed customers and senior officials and associates of KBL were also present during the event.
Theft of water by tampering the supply line valves or by any other means results in huge water wastage and imposes a huge cost on water authorities and customers. Tamper Proof Kinetic Air Valve launched by KBL is likely to bring a positive change in the water management sector by eliminating the said problems.
Tamper Proof Kinetic Air Valve suitable for water, sewage and effluent application, has a specially designed cowl that prevents unauthorized access to the large orifice ball. The use of non-clogging and self sealing technology in the valve ensures trouble free operation and enhanced life. The pay-back period of the valve against procurement cost is highly attractive. To cater to the specific requirement, KBL can custom-make these aesthetically designed valves in various pressure ratings and wide range of material of construction.
Speaking on the occasion, Mr. P.B. Tupe Additional City Engineer - Pimpri Chinchwad Municipal Corporation said, "KBL is the leader in fluid management. In the past the company has delivered many energy efficient pumps, valves and systems that have ensured huge benefits to the customers and society at large."
Mr. Vinod Bodhankar, President – Jalbiradari Pune District and a renowned water conservationist. said, "Through this innovation, KBL is addressing the key issue of environment cleanliness and water wastage. I am confident that this product will ensure better utilization of our most precious resource."