Jung Process System Obtains Major Order from the United States
At the beginning of June Jung Process Systems supplied 30 Hyghspin twin screw pumps to a customer in the United States. This order signifies the largest individual order since the foundation of the company three years ago, but not the first order received from this customer. The producer of yoghurt already relies for quite a long time on the quality originating from Kummerfeld.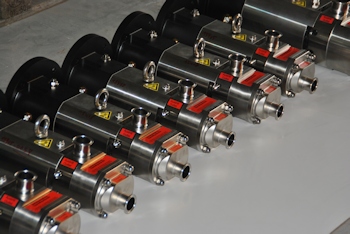 Jung Process Systems supplies 30 Hyghspin
twin screws pumps to a customer in the United States (Image: Jung Process Systems)
The company located in the United States deliberately decided on the purchase of the twin screw pumps manufactured by Jung Process Systems. During the past years the Hyghspin pumps could completely convince regarding efficiency and quality so that this bulk order was now placed for a complete new line. The pump manufacturer considered as a special challenge the extreme short time of delivery of only six weeks.
Since their launch in 2009 Hyghspin pumps are operating very successfully in the dairy processing industry and for many applications. Their spectrum comprises the transport of yoghourt and curd cheese – with and without fruit pulp -, cream, butter, etc. up to soft cheese. The dairies specially apply the hygienic Hyghspin twin screw pumps for their viscous and sensitive products. Also this customer of Jung Process Systems produces yoghurt, cream, pulp products and fruit flavors.
The order volume now supplied comprises totally 25 Hyghspin 50 and five Hyghspin 70 twin screw pumps which are all EHEDG certified and equipped with FDA approved elastomers. The double-acting flushed mechanical seals of the pumps ensure that neither product gets outside nor contamination comes in. At the same time they allow an optimum cleaning of the pumps. All pumps are equipped in a compact space-saving block design and assembled with the new patented revision opening in the gear housing. This execution facilitates considerably the maintenance of the pumps. The output range of the Hyghspin 50 accomplishes outputs from 30 l/h up to 15 m3/h with a maximum solid matter diameter of approx. 15 mm, the Hyghspin 70 achieves a capacity of 30 m3/h and a size of particles of approx. 20 mm.