IFAT India 2018: On the Pulse of the Industry
The coming edition of IFAT India will offer the exhibitors more space: 12,000 square meters in total. By moving from Hall 5 to the newly built Hall 4 of the Bombay Exhibition Centre (BEC), India's leading trade fair for environmental technologies can grow by almost 50 percent. IFAT India 2018 will take place from October 15 to 17, 2018.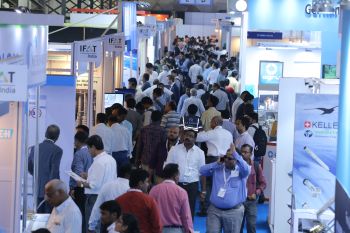 IFAT India: Environmental technology for the Indian market (Image: IFAT India)
Katharina Schlegel, Exhibition Director IFAT Trade Fairs Abroad at Messe München knows: "The expansion allows us to have more companies participate in IFAT India and to offer larger booth spaces. The past, completely booked event showed us that with our topics we have our finger right on the pulse of the Indian industry."
Companies in the fields of air pollution control and biogas production will particularly benefit – future issues that the organizer wants to strengthen. In addition to the hall, the outdoor exhibition area will offer extra space for large facilities and machines.