Hydraulic Institute Continues Legacy of Recognizing Key Contributors to the Institute through Annual Awards Program
The Hydraulic Institute (HI) 2018 Annual Conference concluded with the Gala & Awards Dinner, Friday, March 2 at the Wigwam Resort in Phoenix, Arizona.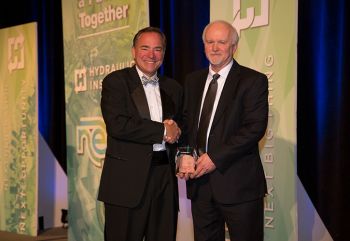 During the program, HI presented awards for the following categories:
Lifetime Achievement
Member of the Year
Pump Systems Matter (PSM) Leadership Standards Partner of the Year
Lifetime Achievement – HI recognized and honored Mr. Rich Heppe, retired President, Industrial Motors & Systems, Nidec Motor Corporation, as the 2017 HI Lifetime Achievement Award recipient. Mr. Heppe has supported the pump industry as an engineer, marketing leader and President for motor companies over a career that lasted 45 years. His organization was one of HI's first Associate Members and he played an important role as both Vice Chair and Chair of the Associate Member Council. In addition to his role on many committees, Mr. Heppe has served on the HI Board of Directors three times.
Member of the Year – Mr. Julian Atchia, Director of Research and Development, SJE-Rhombus, has been selected as the 2017 HI Member of the Year. Julian distinguishes himself for the level and extent of his involvement thus advancing the technical work of HI. He has held leadership positions in technical committees that include:
Co-Chair – Variable Speed Pumping Guidebook which published in 2017
Chair – Variable Frequency Drives: Guidelines for Application, Installation, and Troubleshooting Guidebook published in 2014
Chair – Monitoring Devices & Drivers & Controls Committees
Past Chair – Associate Member Council
Pump Systems Matter Leadership – The 2017 PSM Leadership Award was presented to Mr. Jim Swetye, Technical Training Manager, Grundfos USA. As a founding member of PSM, Jim continues to bring exceptional, high-quality pump systems education to a wide range of pump end-users. He was an original committee member of the first Pump Systems Optimization (PSO) in-person training course. In addition, he served as the first Chairperson on the Educational Affairs Committee, and also on the committee for the first PSO Guidebook and, now, on developing the next-generation version of this popular guide.
Standards Partner of the Year – HI has recognized Mr. Ernest Sturtz, Pump Systems Specialist, CDM Smith – Water Services, as the 2017 Standards Partner of the Year. Ernest has been an active participant with the Institute since the late 1990's participating as a Peer Reviewer for HI standards prior to his company joining as one of the initial Standard Partners. He was also instrumental in working with HI to create the Standards Partner category which allows engineering consulting firms to assist HI Members in developing standards, guidelines and educational programs. His leadership of technical committees include:
Vice-chair – ANSI/HI 9.6.3 Rotodynamic Pumps – Guideline for Operating Regions which published in 2017
Vice-chair – Pump Application Guidelines: Wastewater Treatment Plant Pumps
Current Vice-chair – ANSI/HI 14.4 Rotodynamic Pumps for Installation, Operation & Maintenance standard
HI congratulates all award recipients on their well-deserved awards. The Institute would not be in the position it is today without the dedication and commitment of members and partners.