Hy-Lok Compression Tube Fittings Continue To Gain Acceptance Across All Industries
Hy-Lok USA continues to gain market acceptance through the distribution of leak-free double ferrule Hy-Lok compression tube fittings. The Hy-Lok two ferrule compression fitting was specifically designed for interchangeability with other major manufacturers.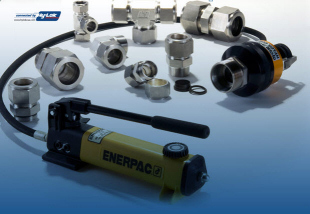 Hy-Lok USA
The types of companies switching to Hy-Lok tube fittings include engine manufacturers, turbine manufacturers and large valve actuation shops in the power generation field. In the gas transmission industry, entire pipelines in the West and in the Southeast have converted to Hy-Lok products.
Typical reasons for switching to Hy-Lok tube fittings include Hy-Lok's sales & service staff, consistent product delivery and low overall cost of ownership. Other companies recently switching to Hy-Lok tube fittings include many commercial diving companies along the Gulf Coast, as well as several US Government facilities.
Hy-Lok tube fitting connections are also gaugeable. Gaugeability is important in maintaining maximum safety during the installation of compression tube fittings.
"If a tube fitting is easy to install, seals leak tight, re-seals multiple times upon disassembly and is readily available to the customer, that's the bottom line." states Ron Cumlander, Executive Vice President and Technical Product Manager.
Hy-Lok USA's online catalog offers detailed tube fitting CAD models, pressure ratings, temperature ratings, and fractional & metric tube end dimensions. The catalog provides comprehensive technical data on tube to tube unions, tube to male pipe threads, tube to female pipe threads and tube to weld ends.
Standard construction materials include 316 stainless steel, brass, carbon steel, and Monel 400, as well as custom alloys upon request.
"Our goal is to not only meet customers' expectations for a tube fitting, but exceed them if possible," said Jody Barnes President of Hy-Lok USA. "Why Hy-Lok? Why Now? One word, VALUE! We offer leak tight connections with the lowest overall cost of ownership backed by technical expertise and delivery off the shelf. "