High Pressure Pumps with Innovative Technology
The new generation of High Pressure pumps from KMT Waterjet Systems offers numerous novelties and technological advancements making pressure generation even more practical, reliable and economical. Less consumables, modern safety features, higher cutting speeds and easier operation are the most important features of this new technology.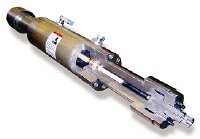 STREAMLINE™ SL-V High Pressure Pumps are offered in five power ratings from 11 kW to 75 kW, producing reliable high pressure water for pure water and abrasive applications.
Further Development of Intensifier Concept
At the heart of the development of the new STREAMLINE™ SL-V Series is the newly redesigned Intensifier concept featuring the Hard Seal End Cap Design "HSEC". This construction replaces traditional seals in the seal head area with a metal to metal connection, making two of the complete seal assemblies unnecessary. This reduces the number of wear parts as well as the running costs; production uptime is also increased substantially. The design of the HP Cylinder cap has been modified so that the pressure of 500 to 4.100 bar is controlled with a torque of only 48 Nm. This is the equivalent to that of the common M10 – 8.8 screw. The complete disassembly of the intensifier is no longer necessary for maintenance. The replacement of HP seals and check valve components is a one step operation requiring only 5 to 10 minutes.
Lower Running Costs Thanks to New Technology
The patented HYPERLIFE™ seals guarantees a outstandingly long uptime of the system. Required maintenance work and costs are further reduced. The same is valid for the hydraulic "All-In-One" seal. This component integrates six pieces into one cartridge allowing for quick replacement without the necessity of disassembly of the hydraulic section of the intensifier. The Softstarter (Standard equipment on the SL-V 30S, SL-V50S and SL-V Classic) reduces electrical peaks during startup to the bear minimum. The load control is a further feature reducing the energy consumption and related costs.
About KMT
As an innovative pioneer in the field of aqua-jet cutting technology, KMT is esteemed and acclaimed around the world. Comprehensive know-how were gained from many years of experience in the field of aqua-jet cutting and a highly qualified range of products make KMT the ideal partner for every company which uses cold-cutting systems. The foundations stone for this revolutionary production technique on an industrial scale was laid in 1971 with the development of the first 4000 bar high-pressure pump. As a subsidiary of worldwide active KMT (KAROLINE MACHINE TOOL AB) the aqua-jet cutting system's division in Bad Nauheim is, with its know-how and high-quality products, the undisputed leader and much consulted specialist in practically all industries and product sectors in which cutting technology plays a role.