GEMÜ Announces its Latest Generation of Soft Seated Butterfly Valves
Valve specialist GEMÜ has redesigned its tried-and-tested butterfly valves and now offers the GEMÜ R480 Victoria in wafer version.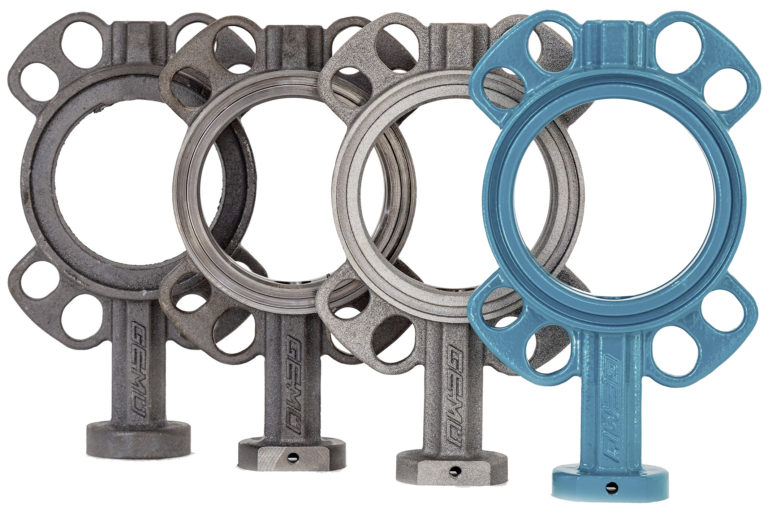 GEMÜ R480 Victoria unmachined parts (Image Source: GEMÜ Gebr. Müller Apparatebau GmbH & Co. KG)
In redesigning the GEMÜ R480 Victoria series, a specialized team from the design, product management, quality management and production departments has refined a multitude of technical specifications, while also further expanding GEMÜ's manufacturing capabilities. Thanks to investments in in-house machining and coating expertise, the company now has even greater control over production processes that are essential to quality.
In-house mechanical machining for narrow mould and positional tolerances
The valve bodies are milled in one clamping position at our highly automated valve production facilities at GEMÜ Valves China. This allows precise shape and positional tolerances to be achieved. In addition, GEMÜ has greater control over butterfly valve quality as they are machined in-house. A further advantage of in-house manufacturing is the fact that the delivery times are more flexible, meaning that availability is better controlled.
Sleek disc design for higher Kv values
Thanks to its flow-optimized and sleek disc design, the redesigned R480 Victoria butterfly valves achieve higher flow rate factors. This reduces the pressure loss, giving the butterfly valves greater energy efficiency. The valves' constant compression on axes and shaft bearings mean that they provide great savings in operating costs as they require a lower torque for operation. Furthermore, the PTFE-coated steel bushes in the axis and shaft area further reduce the torque, thereby helping to save costs.
High-quality coating for robust valves
Having a high-quality coating does not start with selecting or applying the coating. Its pretreatment, such as sand blasting and heating, and robot technology are also crucial factors in the entire coating process. Using the whirl sintering method, the valve bodies are immersed in a basin with epoxy powder. The powder melts on to the preheated valve body and therefore interconnects to form a robust and resistant surface.
The valves' layer thickness of at least 250 µm ensures consistent corrosion protection in accordance with ISO 12944-6 C5M, even in the liner area. The use of the whirl sintering method considerably improves the adhesion of the coating to the metal when compared to static powder coating.
Reliable and smart – GEMÜ butterfly valves are ready for Industry 4.0
Another feature of the R480 Victoria series is the technical optimization of their liners for improved tightness. The inclusion of additional material in the seat, axes and shaft areas – as well as a groove in the flow direction for positive liner fixing – improves the butterfly valves' sealing and resistance to slipping. A fixed point for the liner on the valve body makes it easy to change liners and to read the liner material, even when installed.
In addition, thanks to the insertion slope on the liner, it is easy to replace parts error-free when carrying out maintenance work or replacing fittings at a later stage. The R480 Victoria series can be used as a like-for-like replacement for the previous 480 Victoria series because these valves have an identical actuator flange and the same installation lengths.
Overall, the new butterfly valves stand out not only thanks to their service-friendly and replaceable components, but primarily because of their greater safety and efficiency. However, with the integration of an RFID chip, GEMÜ is going a step further and is prepared for Industry 4.0.
With CONEXO, the company offers an RFID system architecture that enables clear identification of wearing parts, paperless maintenance and process documentation. The CONEXO app guides maintenance technicians through the fully customizable maintenance workflows step by step.
The new R480 Victoria series is available in a wide range of nominal sizes, from DN 50 to DN 300, with many new features and is now available to order from GEMÜ. The new series is available in the following versions:
R480 Victoria with bare shaft
R487 Victoria with hand lever
R481 Victoria with pneumatic actuator
R488 Victoria with motorized actuator