GEMÜ Tugela Double-Eccentric Butterfly Valve Meets Stricter Temperature and Pressure Requirements
GEMÜ, the valve specialist, offers a wafer version of the GEMÜ R470 Tugela series in nominal sizes of DN 50 to DN 600 with immediate effect.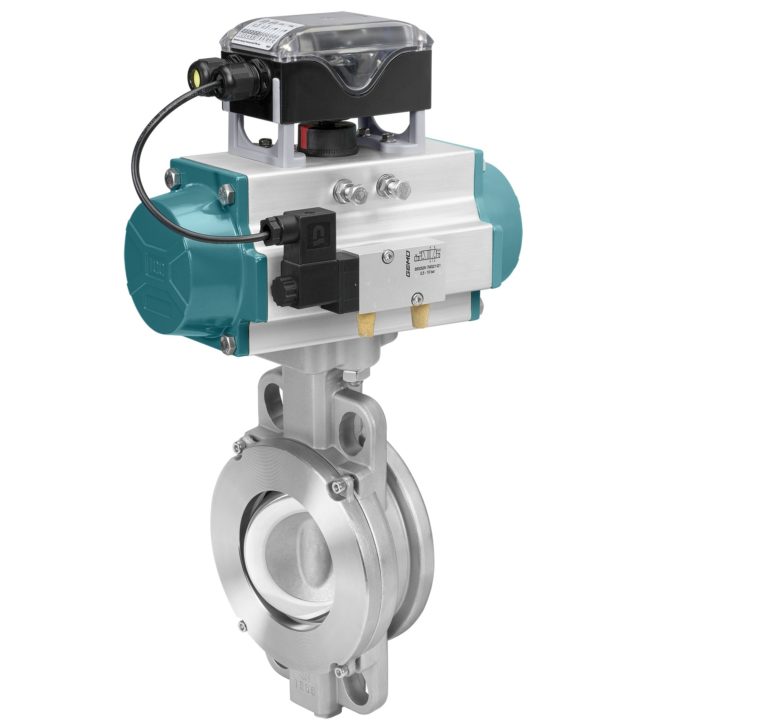 GEMÜ R471 Tugela butterfly valve with automation components. (Image source: GEMÜ Gebr. Müller Apparatebau GmbH & Co. KG)
The GEMÜ Tugela butterfly valve is particularly distinguished by its double-eccentric construction, which is why it is also designated as a high-performance butterfly valve and suitable for pressures up to 40 bar or temperatures up to 230 °C. The butterfly disc separates directly from the sealing seat when it opens, which reduces wear and thus increases service life. Thanks to the locking screw on the actuator flange, the gland packing can be retightened directly at the shaft, which sits in a carbon braid bearing, so that the butterfly valve can be serviced when installed. This, in turn, significantly reduces the maintenance requirements.
Double-eccentric design for easy opening and increased service life
When constructing butterfly valves, a distinction is made between three main designs.
In a concentric design, such as the GEMÜ Victoria series, the pivot point is in the centre of the seat valve, i.e. the main seal is interrupted by the shaft.
In a simple eccentric construction, the main seal is offset to the shaft axis. There is no interruption over the entire 360° sealing circumference with this design.
In a double-eccentric design, the shaft axis is additionally, as the second eccentricity, moved out of the piping axis so that the shaft centre is slightly offset from the piping centre.
Further features of the GEMÜ R470 Tugela butterfly valve are the shaft blow-out protection as an additional safety measure in case the shaft breaks and the improved sealing due to an optimized disc design in spherical form. The GEMÜ R470 Tugela also has an antistatic spring for use in ATEX areas and a TFM seat ring which is particularly low-brittle and ensures reliable use in a wide temperature range.