FNPM Plastic-lined Magnetic Drive Pump from Friatec
FNPM magnetic drive pumps from Friatec AG - Division Rheinhütte Pumpen provide a reliable solution for demanding applications. They enable the pumping of extremely aggressive, corrosive, toxic and generally dangerous or environmentally hazardous media. 15 sizes are available for flow rates of up to 350 m3/h, enabling the achievement of maximum flexibility during planning.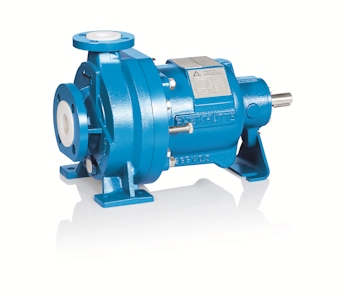 FNPM magnetic drive pump
Standard hydraulics can be adapted to meet the needs of individual discharge heads or low NPSHa values. Continuous standardisation of the drive components and the preassembled magnet cartridge unit which encompasses all the core components of the magnetic drive reduce the variety of parts and costs relating to stocks.
The cartridge unit: an efficient maintenance concept
The most special feature of Rheinhütte magnetic drive pumps is the unique magnet cartridge unit. This is a preassembled ready-to-use unit consisting of an impeller and internal magnet system. Replacement is easy and can be realised in a few minutes. The old unit can then be reconditioned. A cost-advantage of up to 25% is achieved compared to a conventional quick-change unit.
The modular principle: pump design reduces costs
Rheinhütte plastic-lined magnetic drive pumps are efficient solutions, both from an engineering and investment point of view. A range of materials to choose from and a high level of drive component standardisation mean that significant savings can be achieved with the modular concept of the FNPM series. Flow-optimised hydraulics ensure high levels of efficiency. Consequently, the efficiency of the unit is also enhanced. Non-metallic double or ceramic containment cans ensure a long service life. They avoid eddy current loss and increase protection against corrosion, even where diffused media are involved.
The pumps are available in PP, PE1000 (UHMW-PE), PVDF, PFA and PTFE and are solid or lined, depending on the design size and type. The materials are selected to meet technical and economic criteria, thus offering a cost-effective alternative to high-quality metallic pumps when it comes to pumping aggressive, abrasive, corrosive and toxic liquids.