Extension of Armstrong Range Brings Benefits for Larger Pump Sizes
Armstrong has extended its popular range of space-saving Suction Guides and FloTrex valves to cover larger pumps in the Armstrong range.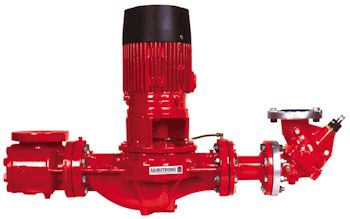 Armstrong
The new sizes of Suction Guide (14" to 20") and FloTrex valves (14" to 24") mean they now can be paired with all Armstrong HVAC commercial pumps, making them ideal for high flow applications such as district heating schemes, variable primary flow systems and large condenser water (cooling tower) installations.
Armstrong Suction Guides have long been used in commercial hydronic systems to prevent debris entering the system, whilst Armstrong FloTrex valves have been a perfect accompaniment on the discharge side of pumps to prevent backflow damage and to keep pumps at peak efficiency by throttling flow. The innovative space-saving design of these pump accessories means physical footprint and pipe lengths can be reduced significantly, and installation is quicker and easier as there are fewer components involved.
Armstrong Suction Guides are designed for bolting directly onto the suction flange of a horizontal or vertical shaft centrifugal pump, where they create the optimum flow conditions at the pump inlet with a single component.
The four-function fitting incorporates a 90° elbow (enabling the Suction Guide to be rotated to any position allowed by the pump suction bolts, from vertical to horizontal). It also has an in-line stainless steel strainer (and a fine mesh start-up strainer), guide vanes to stabilise flow, and a reducing elbow that facilitates connection to inlet piping one size larger than the pump section.
This innovative design eradicates the need for the conventional Y Strainer, flanges, nuts, bolts, gaskets and suction spool piece. By cutting the number of components and connections in the system, the footprint and installation costs can be greatly reduced.
Armstrong FloTrex valves provide similar space-saving opportunities for the discharge outlet, carrying out the functions of a check valve, throttling valve and shut-off valve with just one component.