Extended SP Submersible Pump Range Sets New Standards
Grundfos has launched an extended range of high-efficiency medium-sized SP submersible groundwater pumps. Many of the improvements that can be seen on the new 4" SP pump range are taken from the range of large SP pumps for professional end-users.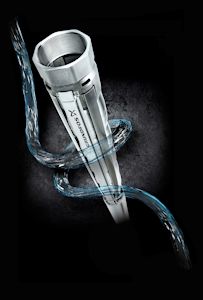 A complete Grundfos submersible system consists of an SP pump, a dedicated motor, a frequency drive and monitoring. Every component is designed to work perfectly together to ensure reliable performance and high energy efficiency. (Image: Grundfos)
The range has been expanded from two to three sizes (with one more to follow) and is built in stainless steel, with three different material grades available, covering liquids from drinking water to seawater.
"We have invested substantially in extending the SP range and in new production facilities in Denmark, showing our commitment to the market for medium-sized submersible groundwater pumps," says Jakob Overgaard, Global Product Manager, Grundfos. "Grundfos is far ahead of current efficiency requirements, and our participation in driving energy efficiency initiatives ensures that industry standards are set as high as possible."
Surpassing energy efficiency requirements
The European Ecodesign Directive establishes a framework of rules and criteria for setting requirements for the Ecodesign of energy related products (ErP s). The Ecodesign requirements for rotodynamic water pumps are established using the Minimum Efficiency Index (MEI).
From 1 January 2015 all water pumps in the scope of the Ecodesign Directive are required to have an MEI value greater or equal than 0.40. The extended range of high-efficiency medium-sized submersible SP groundwater pumps surpasses the MEI value.
Grundfos is committed to sustainable development, with an ongoing effort to reduce the carbon footprint and improve efficiency at the company s factories. For customers, we do this through increased pump efficiency and reduced CO2 emissions. Beyond the efficiency requirements of the Ecodesign Directive, the potential for cost savings from optimised pump operation are substantial.
Drinking water approvals
Grundfos offers a wide range of pumps that exceed the efficiency requirements. In addition to surpassing EU standards as outlined in the Ecodesign Directive, the new 4" SP submersible groundwater pump range meets drinking water approvals worldwide relevant to the market where the pump is sold. The pump is CE labelled and with increased wear resistance offers the reliability for which Grundfos is known and that customers require.
Reliable and proven groundwater pumps
Grundfos SP submersible pumps are renowned for their high efficiency and reliability throughout the range. Made entirely of corrosion-resistant stainless steel, SP pumps are ideal for a wide variety of applications, such as groundwater supply to waterworks, irrigation, pressure boosting and in industry.
Grundfos SP pumps represent state-of-the-art hydraulic design. Built to deliver optimum efficiency during periods of high demand, the SP pumps provide low long-term costs and high operating reliability regardless of the application.
The range offers high efficiency, high resistance to sand and other abrasives, reliable motors, and easy maintenance. In addition to dedicated motor protection devices, a complete monitoring and control system is available for constant optimisation of the pumping system.
"Considering the reputation the SP pump already has for reliability, system integration and efficiency, we are sure customers will welcome the new 4" SP pump," says Jakob Overgaard, and concludes: "In addition to meeting the new Ecodesign Directive requirements, the potential for energy savings is substantial and the Grundfos Pump Audit is an excellent way of discovering these."
The 4" SP submersible groundwater pump is launched, initially in the European region and in selected markets around the world.