Extended cast iron in-line pump series
The Lowara FCS series of cast iron in-line centrifugal pumps has been extended with the introduction of new outlet sizes up to 150 mm in the FCS4 design, with 4 pole motor.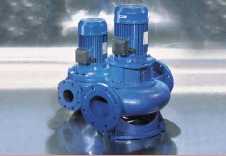 Lowara FCS series (source: Lowara)
The FCS series has been designed to cover a wide range of applications, such as:
- Water circulation in heating and air-conditioning systems
- Cooling plants
- Washing plants
- Industry
- Irrigation and greenhouses
Main characteristics:
AISI 316L stainless steel impeller laser welded
Cast iron impeller from size 80-200 up to 150 (bronze impeller available on request for some sizes)
Cast iron pump body and adaptor
Outlet sizes up to 150 mm
Impeller diameter up to 315 mm
Stub shaft version with standard 4 pole motor
Maximum flowrate up to 330 m3/h (4 poles)
Maximum head at 35 m (4 poles)
Mechanical seal in compliance with DIN 24960
IP 55 protection
Class F insulation
About LOWARA
Lowara Srl Montecchio Maggiore, Vicenza, (www.lowara.com) which is part of the ITT Industries group, is a leader in the manufacture of hydraulic pumps and water handling and control systems. It has 900 employees in Europe, 730 operating in Italy. In 2000 its consolidated sales totalled about 150 million dollars, or over 165 million euro.
ITT Industries, Inc. (www.itt.com) supplies advanced technology products and services in key markets including: electronic interconnects and switches; defense communication, opto-electronics, information technology and services; fluid and water management and other specialty products. Headquartered in White Plains, NY, the company generated $4.7 billion in 2001 sales. In addition to the New York Stock Exchange, ITT Industries' common stock is traded on the Midwest, Pacific, London, Frankfurt and Paris exchanges.