EKKI Launches ULAV 4J, the Next-Generation 4′ Ground Water Pumps for the Deepest and Sandiest Borewells"
Pumps and Water Technology Major EKKI has introduced its latest line of 4" Borehole Pumps, known as the ULAV4J. This new ULAV4J range encompasses flow rates ranging from 30 to 300 liters per minute, featuring a jacket-type construction with water-filled rewindable motors. The ULAV4J series boasts a host of exceptional features that enhance performance and durability.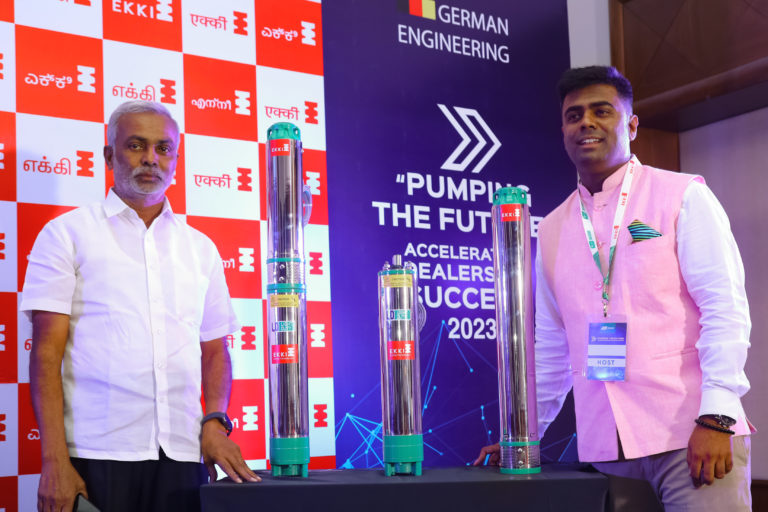 From left, Mr. Arumugam, CEO, and Mr. Kanishka Arumugam, Co-CEO of EKKI WATER TECHNOLOGIES, at the launch of ULAV4J series. (Image source: EKKI Group Companies)
Constructed with premium grade cast iron, these pumps exhibit exceptional strength and resistance to wear and corrosion. The incorporation of low friction carbon bushes ensures smooth operation and extends the lifespan of the pumps. Moreover, the motors are safeguarded against sand ingress through a three-way protection system, while a replaceable counter-thrust pad limits rotor lift. Preventing sand from entering the pump, a cable sand guard and specially designed double-layer stainless steel strainer are employed. To further enhance durability and efficiency, corrosion-resistant stainless-steel parts and engineering plastics are utilized for impellers and diffusers. Pumps with higher stages are equipped with additional bearing support to optimize performance under increased load.
Kanishka Arumugam Co- CEO, Ekki Water Technology said:
"The ULAV4J Groundwater pumps have successfully undergone extensive field testing, exceeding 6000+ hours, in some of the deepest and sandiest borewells. These pumps are available in both 50Hz and 60Hz variants, catering to global market applications. With its unmatched reliability, the ULAV4J will redefine groundwater pumping for buildings and agriculture. EKKI, with exports to over 25 countries, aims to accelerate its global business with innovative products. The company has an international Joint Venture Alliance with HOMA of Germany, further expanding its reach and technological capabilities."