Edwards Wins Order for World's Largest Dry Mechanical Vacuum Pumping System
30.04.2009
Leading vacuum technology company Edwards has signed a contract to supply China's Chong Qing Steel Group Co. with the world's largest dry mechanical vacuum pumping system. The total value is in excess of US$ 8 million – Edwards' largest ever single project order in the metallurgical market.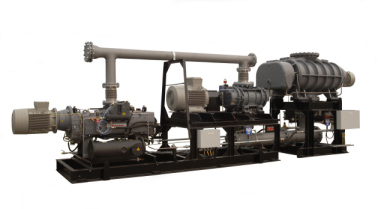 Edwards
When installed, the system will be capable of pumping a world-beating 1,000,000 m3/h at 0.67 mbar, and will degas 230 tonne quantities of liquid steel in each batch. It will be the world's first application of dry vacuum pumps to a Ruhrstahl Heraeus (RH) steel degassing process.
The Edwards dry pumping system provides Chong Qing Steel with potential energy cost savings of more than 90 per cent over traditional steam ejector systems. Other benefits include a lower environmental impact through reducing water effluent and CO2 emissions, optimised steel quality due to no moisture contamination and consistent performance, and increased safety through removing the need for high pressure steam and high temperature fuel and burner systems.
Edwards will supply 18 steel degassing 'supermodules', each comprising twin 40,000 m3/h mechanical boosters backed by a common 8,000 m3/h booster and one of the latest generation IDX1300 dry screw pumps.
The company's proven track record in steel degassing systems was instrumental in securing the deal, along with Edwards' international reach.
Pumps will be manufactured in Shoreham, UK, in Lutin in the Czech Republic, and in the USA. Project management will be provided by Edwards Bolton, UK, and manufacturing, procurement, assembly and test by Edwards Shanghai, China. Deliveries to the customer will be completed by the end of 2009.
The order is based on collaboration between Edwards and three other players in the global steel industry: plant operator Chong Qing Steel; Baosteel Corp., the major engineering contractor for steel business within China and also a global player; and Adrem Invest, consultant and contractor in steel degassing projects.
"With global demand for steel growing rapidly, we are already seeing strong growth in smaller steel degassing installations," explains Marinella Varallo, general manager for industrial sales at Edwards.
"By opening up RH processes on larger installations to our dry pumping technology, we can now address a much larger global market."
About Edwards
Edwards, whose 90th anniversary is in 2009, is a leading supplier of integrated solutions for the manufacture of microelectronics devices, including semiconductors and flat panel displays. It is also a world leader in vacuum technology for industrial, scientific, process, and R&D applications. Edwards employs around 3,600 people globally, in the design, manufacture and support of high technology vacuum equipment. Edwards invented the concept of the commercial oil-free 'dry' vacuum pump and now supplements this with a wide range of other pumping technologies as well as related products and services.