EcoCCompact from Dürr Ecoclean, a New Space-Saving System for Cleaning and Preservation with Hydrocarbons and Modified Alcohols
With the EcoCCompact, Dürr Ecoclean has developed a versatile full-vacuum system for parts cleaning and corrosion protection with non-halogenated hydrocarbons and modified alcohols.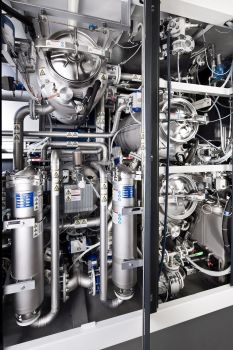 Dürr Ecoclean
The successor to Compact 80 C/P offers a wide range of options, from rapid degreasing right through to sophisticated cleaning tasks conforming to exacting cleanliness specifications. Innovative technologies guarantee maximum cleaning efficiency and a targeted reduction in per-unit costs. Besides being extremely compact and easy to operate, the new EcoCCompact also looks good and is excellent value for money.
Small and medium-sized enterprises, in particular, are often faced with the challenge of having to meet different cleaning demands reliably and cost-effectively with a single cleaning system. Fast processing times, high machine availability and user-friendliness are also essential, as well as short delivery times and environmental compatibility. With this in mind, Dürr Ecoclean has designed the versatile EcoCCompact which supersedes the Compact 80 C/P model. The system is operated under a full vacuum with non-halogenated hydrocarbons or modified alcohols (polar solvents) and it is easy to change from one solvent to the next.
A new approach to versatile part cleaning
A well-thought-out concept and a multitude of standard options make EcoCCompact easy to adapt to a company's specific requirements, for example, from degreasing through pre-washing and intermediate washing right up to fine cleaning. With a footprint of just 4,000 x 1,600 x 2,700 mm (L x W x H), the space-saving housing can hold one, two or three fluid tanks for cleaning and corrosion protection processes. Tank two and/or three can also be retrofitted at a later date - for example, if cleanliness requirements rise or if parts require corrosion protection. Each fluid tank has its own energy-efficient flood pump with variable-frequency drive unit, as well as a separate filter circuit. Designed as a combined filter system, bag or cartridge filters can be used as required without having to change the housing.
Furthermore, the EcoCCompact can be adapted to different batch sizes. The work chamber is designed to hold batches up to 530 x 320 x 200 mm (L x W x H) in size. Alternatively, with the same footprint, a larger work chamber can be installed to hold part containers with a height of 250 mm. This not only increases throughput but also cuts part cleaning costs.
In addition, the new system is remarkably adaptable in operation. Via the modern HMI control panel with touchscreen and self-explanatory pictographs for quick and safe operation, the operating mode can easily be switched from cleaning to corrosion protection and vice versa as required. Thanks to the integrated part visualization unit, process tracking becomes intuitive and much easier.
Maximum cleaning efficiency at lower per-unit costs
To improve the quality of cleaning or degreasing processes and cut costs at the same time, a wealth of experience and innovative technologies from other Dürr Ecoclean systems have found their way into the EcoCCompact. Rotation of the part container, for example, is controlled by a variable-frequency drive unit. This enables the movement of the basket to be adapted to the parts to be cleaned, thus optimizing the process. Moreover, parts can be specifically positioned in the work chamber to ensure that critical areas are reached, or to allow fluid to drain off before vacuum drying. The advanced vapour degreasing respectively rinsing option also serves to optimize the process. With this function, the oil-laden solvent is fed directly to the distillation unit. This minimizes the accumulation of oil in the solvent, or dirt in the flood tank, and thus improves the quality of the processing fluid.
To reduce non-productive times, the EcoCCompact has efficient pumps and large-diameter piping. Operating costs are reduced also by using frequency-controlled flood pumps and recycling heat from the distillation process to warm the fluid. A further advantage of the new compact system is the option to cool either with water or air.