Ebara Launches New Dry Vacuum Pump
Ebara Corporation will commence the sale of the new model EV-L water-cooled dry vacuum pump for the semi-conductor industry.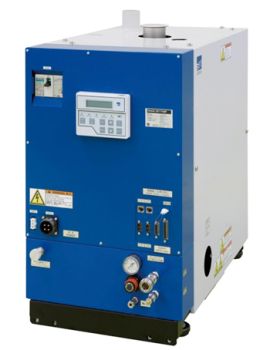 Model EV-L100N (Image: Ebara Corporation)
The model EV-L is the optimal dry vacuum pump designed for medium-duty applications such as metal and poly etching. The model EV-L joins the current model EV-S designed for light-duty applications (load lock room, test rigs, PVD equipment, etc.) and model EV-M designed for harsh-duty applications (thin film deposition systems, etc.), completing the line-up of optimal performance dry vacuum pumps offered for sale across the range, from light-duty to harsh-duty.
The model EV-L is a compact, low power consumption model with corrosion resistant materials employed as standard, and having the optimal temperature profile appropriate for the process application.
Going forward, Ebara will step up its commitment to developing products and services that contribute to our customers' productivity and total cost reduction.