Ebara Holds Pump Seminars in Vietnam
Ebara held pumps seminars on October 8 at pump factory of Ebara Vietnam Pump Company Limited, a group company of EBARA, in Hai Duong Province Vietnam. A total of 30 teachers and students attended from Thai Nguyen University of Technology.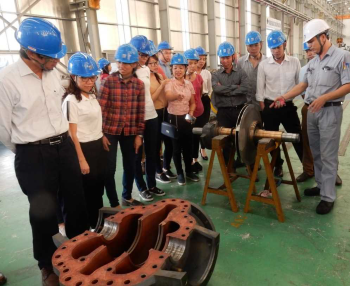 Pump assembly workshop (Ebara)
At the seminar, a pump assembly workshop was held in the factory in addition to a lecture on basic pump technologies, calculation of pipe head loss and determination of pump requirements. At the assembly workshop, the participants listened attentively to the instructor who fit the rotating body and upper body to a Φ300 mm double suction volute pump.
In 2016, the pump factory opened in Vietnam. It is capable of production of large pumps and pumps with a variety of specifications as well as integrated production, from the creation of a mold to the assembly of pumps.
Female engineers are active in various field of pump stations and wastewater treatment facilities for social-infrastructure due to urbanization, industrialization in Vietnam. One third of participants are female in this seminar.
Ebara has continued to deepen its relationships around the world through the provision of technical guidance and other forms of international cooperation. Since the launch of the EBARA Hatakeyama Memorial Fund in 1989, it has organized more than 260 seminars at different locations around the world, welcoming upwards of 12,000 participants. This year, EBARA is set to give five seminars.
Ebara will continue to contribute to the development of Southeast Asian countries not only by offering pumps and other products and services, but through technical seminars and other international cooperation activities.