Easy Plant Validation
It's now easier than ever to validate plants according to FDA (Food and Drug Administration) requirements. Siemens Automation and Drives (A&D) offers two optional packages for its Simatic WinCC V6.0 process visualization system, Simatic Logon and Simatic WinCC/Audit, covering the quality standard 21 CFR Part 11.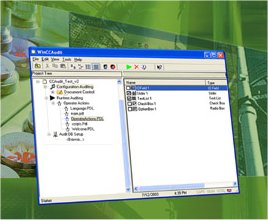 Simatic WinCC V6.0
This standard is quickly becoming a legal stipulation worldwide for production plants in the pharmaceutical, food and drink and fine-chemicals industries.
Simatic Logon manages all authorized users plant-wide. Simatic WinCC/Audit provides integrated and transparent protocols and documentation for all processes in a plant. This ranges from original user entries to changes to the plant state or plant configuration.
To guarantee safety of entire production plants, Simatic Logon satisfies FDA requirements for access control and user administration. Simatic Logon is integrated into the safety system and user administration of Windows. It enables management of users with different authorization levels.
Simatic WinCC/Audit fulfills FDA specifications which require proof of what users have entered or when and how plant changes have taken place. The "Audit Trail", stored in tamper-proof form in the WinCC archive (Historian), consistently protocols plans, configurations and plant states.
The "Audit Viewer" can be used to search, display, export and print Audit Trails in any database on the network. The sophisticated document management system manages WinCC configuration data, for example images and functions, as well as any data specific to the plant. The system also provides access to earlier versions.
You can find more information on the use of Simatic WinCC in plants requiring validation, for example a white paper, on the Internet at: www.siemens.com/wincc-fda.