Dürr Technik Opens New Sales Office in South-America
Dürr Technik is expanding its network of world-wide branch offices. In April the Dürr Technik Office Latin America was opened in Buenos Aires, Argentinia and will be responsible for the South American market.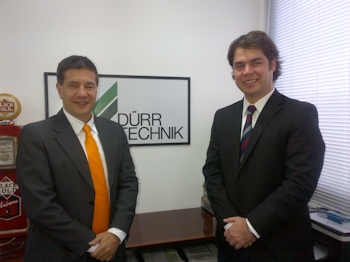 Oliver Banz and Frank De Poli (Iamge: Dürr Technik)
The office is managed by Mr Frank De Poli, who as the Sales Director is in charge of the administrative sector. Mr Olivier Banz is the Sales Manager and responsible for the technical support sector.
Thus, Dürr Technik can offer their customers qualified advice and ongoing support – which is of immeasurable advantage, especially in the field of system solutions.