Diaphragm Valves for Large Swiss Biopharmaceutical Plant
In October 2018, the KSB Group's SISTO Armaturen S.A. in Luxembourg started manufacturing several thousand diaphragm valves for a new production facility in Switzerland.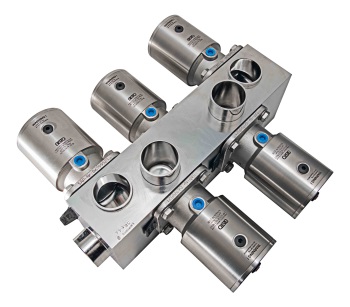 Hydraulically optimised SISTO-C valves with the compact Lap.520 pneumatic actuator for highly-purified water (HPW) applications. (KSB SE & Co. KGaA, Frankenthal)
The valves of the SISTO-C type series have been ordered for the construction of Lonza AG's Ibex biopark in Visp (Valais). The new facilities will produce therapeutic substances of very high quality on a biotechnological basis. The valves will be delivered to Lonza AG as well as to various engineering contractors from Europe and China.
All valves, including the multi-port valves, are manufactured in Echternach of quality forged steel 1.4435 (316L) and 1.4539 (AISI 904L). To meet the tough requirements of biopharmaceutical production processes, the diaphragms are made of EPDM or TFM with an EPDM backing diaphragm.
The nominal sizes needed range from DN 8 to DN 200. Thanks to a metal spiral supporting the rear of the diaphragm, the installed SISTO-C valves, including large nominal sizes, are approved for a maximum operating pressure of 16 bar. This design provides a high operating reliability over a long period of time, also at high temperatures.
More than 95 percent of the valves are fitted with pneumatic piston actuators, using the new SISTO actuator generation, which is characterised especially by its compact dimensions and low weight. With their sturdy design these actuators achieve very high open/close frequencies and a long service life.
One of the reasons for the Luxembourg-based manufacturer to be awarded the contract was that the Swiss customer had made good experiences in similar production facilities with the quality and long service life of the sealing system with an enclosed diaphragm and support spiral. Delivery is expected to be completed in 2019.