CompactTurbo™ – Powerful New Vacuum Pumps
The four models in the CompactTurbo™ series are the right vacuum pumps for employment in coating, the semiconductor industry, research and development, as well as numerous industrial applications.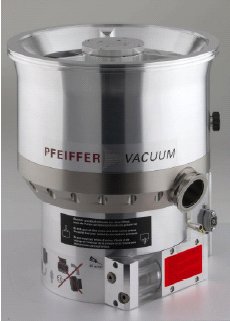 New CompactTurbo by Pfeiffer Vacuum (photo: Pfeiffer Vacuum).
They are characterized by their high pumping speeds of 1000-2000 l/s for both light (H2, HE) as well as heavy gases (Ar, CF4). Thanks to their compact design, the pumps require only little space. These properties reflect the high demands of coating applications, in particular in the semiconductor industry. The innovative rotor concept eliminates the need for additional drag stages. Because of this, the CompactTurbo™ series can handle high particulate applications. This means that these pumps can easily be employed in ion implanters as well as in EUV Lithography, CVD and PVD processes.
The CompactTurbo™ models satisfy the highest industrial demands with respect to dust and spray water protection (IP 54). In addition, they also conform to semiconductor industry standards Semi F-47 (power failure) and E-74 (mechanical/electrical interfaces).
Innovative technology and long-term cost effectiveness
The robust bearing system serves as the basis for the high Mean Time to Failure of > 200,000 hours. The pumps' simple maintenance options and long maintenance intervals translate into low operating costs and long service life. An extensive line of accessories enables the pumps to be adapted to customer and process needs, such as corrosive processes. The optionally available integral power supply assures simple integration into the application. This eliminates the need for a separate rack-mounted power supply or controller.