ComAp Announces the New Product Line InteliDrive 400
With a long history in the stationery engine market, ComAp brings a quantum leap forward in engine control, the new product line InteliDrive 400 with two controllers InteliDrive 430 for simple applications and InteliDrive 480 for more complex applications.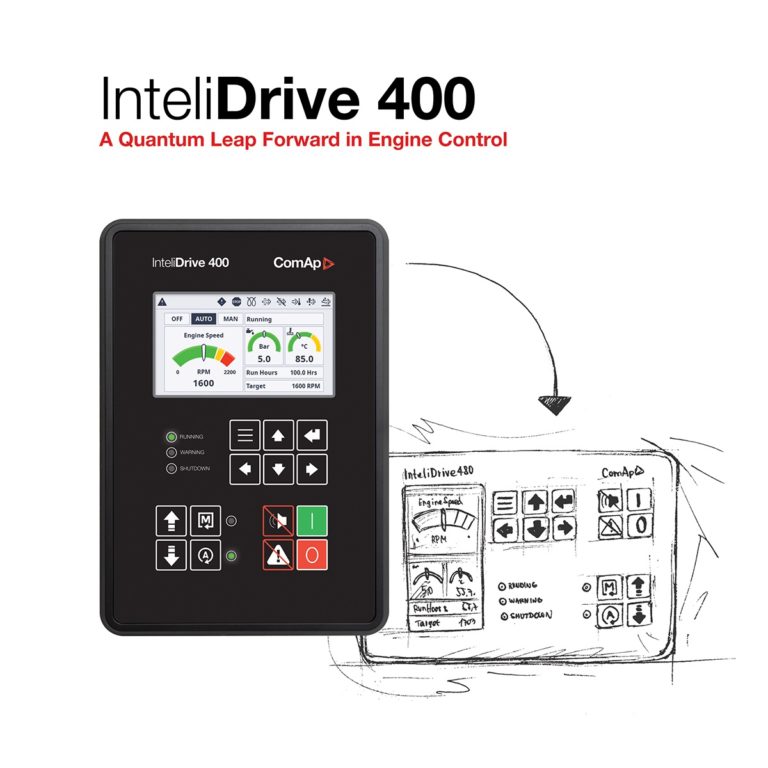 ComAp announces the new product line InteliDrive 400 – customisable engine controls for the stationary engine market. (Image source: ComAp)
They were specifically developed for the engine control market and in close collaboration with key customers to meet the features and benefits they most needed. One of its key features is customisability. The controllers have been designed to be easily modified to suit any customer application; whether it be water pumping, hydraulic control, air, or gas compression.
Customisable Display and Front Fascia
Because an innovative new type of fascia was used on the controller, the front layout is completely customisable for the customer. If they require fewer buttons, more buttons, a different colour, their own branding, and more – it is all possible with the new range of InteliDrive controllers. The 4.3 inch full colour display is also fully customisable with different gauges, instruments and graphs available to best suit the customer's application. The controllers have both vertical and horizontal mounting options available, to maximize flexibility in the field.
Flexible Hardware
As well as the front being customisable, the hardware itself is customisable too, including an extensive ECU list and multi-language support. Connection to the InteliDrive controllers is available via Wi-Fi, Bluetooth, Ethernet, USB, 4G/LTE or even 5G.  The controller is also fully compatible with ComAp's WebSupervisor and AirGate, so customers can monitor and maintain their equipment online or using our smartphone application. Importantly, a PC is no longer needed to program it – the InteliDrive 430 and 480 are both fully programable via the display and buttons; with the ability to import and export the configuration via USB.
Smart Features
With support for active control switching of PID loops and application curves, direct actuator control via PWM output, line fill, vacuum prime and calculated flow functionality, dual battery inputs, dynamic alarms, historical and aftertreatment data logging, as well as extensive security features, the InteliDrive 430 & 480 are suitable for practically any engine application.
The InteliDrive 430 and 480 will be available for sale from May 2021.