Colfax Subsidiary Opens Middle East Office in Bahrain
Global positive displacement pump manufacturer will provide engineering and technical expertise to customers in region, including world's largest oil companies.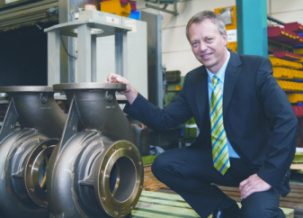 Colfax Senior Vice President Dr. Michael Matros
Allweiler AG, a subsidiary of Colfax Corporation (NYSE: CFX), a global leader in fluid-handling solutions for critical applications, has opened an office in Bahrain to better serve and support Middle East clients.
"While Colfax has worked for decades in the region on hundreds of oil and gas, power generation and industrial installations, we wanted to increase our commitment to current and prospective Middle East customers," said John A. Young, president and CEO of Colfax.
Located in Sanabis, Kingdom of Bahrain, the new office will include employees permanently in the country as well as those in the region for special assignments. Its Middle East clients include Bahrain Petroleum Company, Saudi Aramco, Kuwait National Petroleum Company, Petroleum Development of Oman, Qatar Petroleum, Al-Khafji Joint Operations (KJO) and others.
"We look forward to having direct and frequent contact with our Middle East customers to provide custom engineered solutions, technical advice and training seminars," said Martin Schroeder, on-site manager at the Bahrain office. "We also have at our disposal worldwide resources, including more than 2,000 associates, engineering professionals and technical facilities in Colfax offices in North America, Europe and the Asia Pacific region. Whether our customers are focused on capacity expansion projects, reducing operating costs of current installations, meeting environmental requirements or moving crude oil of varying viscosities, the Colfax team in the Middle East can provide a complete portfolio of pump technologies, application expertise and the brands that customers can count on for years of service in the harshest environments."
About Allweiler
Allweiler AG is the oldest German pump manufacturer and the European market and technology leader for centrifugal, propeller, screw, progressing-cavity, cogwheel, rotary lobe, macerators and peristaltic pumps. Headquartered in Radolfzell and with locations in Bottrop and Gottmandingen, Allweiler owns a foundry, produces its own stators and manufactures ready-to-use fuel and lube-oil skids and rinsing-water facilities for commercial marine, oil & gas, chemical processing, specialty chemical and waste and wastewater applications.
About Colfax Corporation
Colfax Corporation is a global leader in critical fluid-handling products and technologies. Through its global operating subsidiaries, Colfax manufactures positive displacement industrial pumps and valves used in oil & gas, power generation, commercial marine, global naval and general industrial markets. Colfax's operating subsidiaries supply products under the well-known brands Allweiler, Fairmount Automation, Houttuin, Imo, LSC, Portland Valve, Tushaco, Warren and Zenith. Colfax is traded on the NYSE under the ticker "CFX."