Colfax Provides Pumps Worth $2 Million for New Oil Pipeline in Gabon
At the end of last year Colfax Corporation delivered fifteen pumps and two pump skids to French oil and gas concern Maurel et Prom. The products are used in an oil field in Gabon.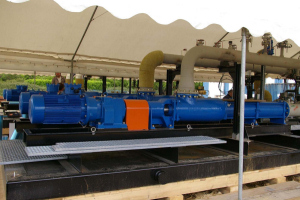 Allweiler progressing cavity pumps are used for drainage and heat-exchange purposes.
They transport crude oil more than 140 km, clean the pipeline with high-pressure water, and help treat the oil and improve its flow properties. The pumps were manufactured by Colfax companies Allweiler and Warren; the pump skids were produced by Imo.
Colfax Imo Pompes in Tours, the Allweiler AG sales organization in France, delivered nine Allweiler progressing cavity pumps (AE 1+1N 5000 and AE 2+2 H 2700), six Warren two-screw pumps (2030 FSXA), and two complete pumping stations from Imo. All of these systems are used in the pipeline between the oil field in Onal and the refinery in Coucal.
According to Daniel Joslin, Managing Director of Colfax Imo Pompes, the choice to install a series of screw and progressing cavity pumps in the pipeline is an unusual but highly effective solution. Mr. Joslin states: "The screw pumps act as pipe-acceleration pumps to move up to 30,000 barrels of crude oil over a distance of more than 140 km every day. They also have the ability to clean the pipeline by pumping 50 m³ of water per hour at a pressure of 50 bar." The crude oil obtained from this oilfield is unusually viscous. Viscosity fluctuates from 30 to 1380 cp at a temperature of approximately 25 to 60 °C. Among other substances, the crude oil contains up to 10% water by volume and up to 33.6% paraffin. Five warming stations in the pipeline minimize heat losses in order to maintain the product s ability to flow. These stations are equipped with Allweiler progressing cavity pumps. Besides the temperature challenge, the oil must also be cleansed of foreign matter before entering the pipeline. This is performed in a treatment and cleaning system that is also fed by an Allweiler progressing cavity pump. Two additional Allweiler pumps are installed for cleaning purposes on the refinery-side of the pipeline.
The pumps comply with all API 676 and ATEX requirements. All performance tests were conducted jointly with the customer at Colfax Imo Pompes in Tours. Dr. Michael Matros, Chairman of Allweiler AG: "Colfax pumps have been proven around the world in extremely challenging oil applications. The customer Maurel et Prom placed a high value on our ability to provide a complete proposal that involves several pump types designed to work together. They were also impressed with our extensive technical support."
Back in early 2008, Colfax Imo Pompes had delivered two complete systems from Imo for the same project: one based on a progressing cavity pump for emptying a tank filled with a water/crude mixture and another that uses three centrifugal pumps for firefighting.
About Allweiler
Allweiler AG is the oldest German pump manufacturer and the European market and technology leader for centrifugal, propeller, screw, progressing-cavity, cogwheel, rotary lobe, macerators and peristaltic pumps. Headquartered in Radolfzell and with locations in Bottrop and Gottmandingen, Allweiler owns a foundry, produces its own stators and manufactures ready-to-use fuel and lube-oil skids and rinsing-water facilities for commercial marine, oil & gas, chemical processing, specialty chemical and waste and wastewater applications.
About Colfax Corporation
Colfax Corporation is a global leader in critical fluid-handling products and technologies. Through its global operating subsidiaries, Colfax manufactures positive displacement industrial pumps and valves used in oil & gas, power generation, commercial marine, global naval and general industrial markets. Colfax's operating subsidiaries supply products under the well-known brands Allweiler, Fairmount Automation, Houttuin, Imo, LSC, Portland Valve, Tushaco, Warren and Zenith. Colfax is traded on the NYSE under the ticker "CFX."