NETZSCH Pumps USA Announces Expansion of its Pump Production Capabilities in its Exton, Pennsylvania Facility
NETZSCH Pumps USA is considerably expanding its pump manufacturing machines and processes in its Exton, Pennsylvania Facility. This expansion allows NETZSCH to serve customers across the country in a more efficient and cost-effective manner.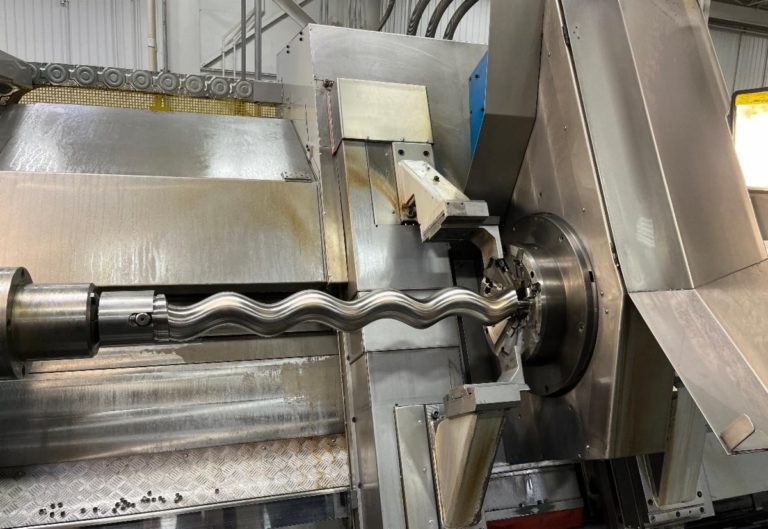 (Image source: NETZSCH)
The company has recently changed its name to NETZSCH Pumps USA to underline the importance of its increased manufacturing footprint in the United States. The past two years have shown how dependent we are on global supply chain reliability. NETZSCH took actions and is on-shoring manufacturing in Pennsylvania, USA to serve customers better and become more independent of the global supply chain.
The expansion will include Multi-Tasking Machining Centers which are a complete fusion of CNC turning- and machining centers, forming, by far, the most advanced Multi-Tasking machine in the industry. We can complete all operations in a single setup – turning, milling, boring, drilling and more. The machine delivers precision and performance for heavy, large-diameter, shaft-type pieces for a wide range of components for NETZSCH world leading NEMO® Progressing Cavity Pumps. Ultimately, this significant investment in the new machining centers will allow NETZSCH to manufacture the lines largest rotors, drive shafts and coupling rods at their Exton, Pennsylvania facility which will cut delivery times to a fraction of the current market standard. NETZSCH also invested in special rotor whirling machines which can produce rotors for NEMO® Progressing Cavity pumps for up to 6-inch diameter and 20-foot length.
This investment also allows NETZSCH federal US customers to be in full compliance with the Build America, Buy America Act (BABAA) as NETZSCH Progressing Cavity pumps are produced in the USA.
In addition to the multimillion dollar investment in the manufacturing facility in Pennsylvania NETZSCH also recently opened up an assembly plant in Houston, Texas.
"These investments in the USA are part of a global initiative by NETZSCH which includes investments in new factories in Brazil, China, India and last but not least a new campus for the Pump Headquarters in Germany with a volume of more than 100 Million EURO. NETZSCH has grown its world market share in the progressing cavity pump sector to over 40 % and we still see opportunities to continue to grow by servicing our state-side and global customers better" adds Thomas Streubel, President of NETZSCH Pumps North America and member of the global leadership team.
NETZSCH is underlining and strengthening its world leading position and its role as THE partner of its customers for handling complex fluids.
"With the Exton expansion, our goal is to significantly improve our flexibility in the US. We want to get parts to our customers more quickly, at the highest level NETZSCH quality standards, with shorter lead times, and with lower shipping costs," notes Thorsten Thiebach, VP of Operations at NETZSCH in Exton. "This is crucial for drastically cutting turnaround times to our customers and to overcome the challenges presented by the rising costs of shipping and the uncertainty of global supply chains."