Seepex Proudly Announces Personnel Changes and Newly Hired Team Members
Chris Brooks is new territory sales manager for the southeast region and Bill Martiniere is new chemical market manager.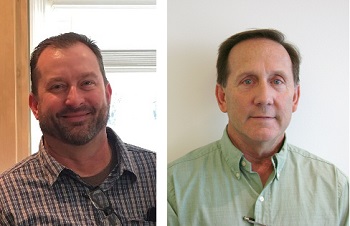 Chris Brooks (r.)and Bill Martiniere (l.) (Image source: Seepex Inc.)
Chris Brooks has been hired for the position of Seepex Territory Manager for the Southeast region of the United States as of July, 2019. He covers the industrial and municipal markets in Louisiana, Mississippi, Alabama, Georgia, and Florida. Mr. Brooks was previously employed as a Branch Manager at a Seepex distributor and has extensive knowledge of Seepex progressive cavity pumps.
Bill Martiniere has accepted the new position of Seepex Chemical Market Manager as of July, 2019. In this new position, Bill will be responsible for all chemical pump sales related activities. Bill has more than 35 years of industrial experience with heavy emphasis in chemical applications along with extensive knowledge of progressive cavity pumps in chemical metering applications.