Chemineer Side Entering Agitators Offer Reliable Performance and Dependability
The Chemineer HS gear-driven, side entering agitators are designed for maximum service life. The HS agitators use precision machined, surface hardened spiral bevel gear sets, high-capacity tapered roller bearings and heavy-duty output shafts.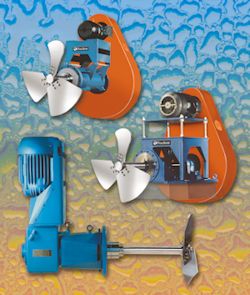 Chemineer side entering agitators (Image: Chemineer)
The Prochem PB and MD belt-driven, side entering agitators provide easy-to-maintain configurations that minimize downtime and maintenance costs. Prochem agitators are the ideal choice for a broad range of applications, including corrosive and abrasive environments, pulp and paper, and oil storage.
All the Chemineer side entering agitators feature a variety of options for gearing and bearings, shafts and seals, housing and lubrication, belt drives and guards, and tank shut off configurations.
Chemineer's variety of advanced impeller technology, including the HE-3s and Maxflo WSE impellers are all ideal for the side entering agitators. Each impeller offers unique performance characteristics for specific application requirements.