Cartridge Solution Ensures Easy Maintenance
Wilo has extended their Multivert MVI range of high-pressure centrifugal pumps with the new models MVI 32 C and 52 C, with 30 and 37 kW motors and with the new Wilo-Multivert MVI 70 series.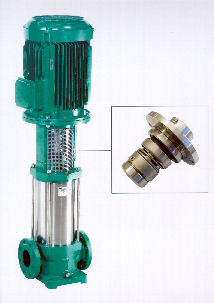 In the new high-pressure pumps, the cartridge solution permits replacement of the floating-ring shaft seal without removal of the motor (Photo: Wilo AG, Dortmund, Germany)
With these additions, the product range now covers a wide performance spectrum.
The high-pressure centrifugal pumps in inline design have a unique feature: they are equipped with a cartridge-type floating-ring shaft seal which is unaffected by the direction of rotation. This permits the fitter to replace the floating ring seal without having to remove the motor from the pump. The cartridge can be removed quickly with a special removal tool which is available for all models with motors rated at 11 kW or higher. Quick and easy maintenance of the pumps is thus ensured.
The stainless steel pumps are intended for use in water supply systems and as pressure boosters. They are also used in fire-extinguishing systems and industrial circulation systems, cooling-water circuits and washing and irrigation systems. Depending on the type of pump selected, drinking water, heating water and process water can be pumped to heights of up to 220 metres. The water temperature may lie between –15 and +120 °C. Depending on the pump model, the volume flow rate is 50 to 100 m3/h. All pump parts in contact with the medium are corrosion-resistant and the pump base is cataphoretically coated. This ensures that the high-pressure centrifugal pumps operate reliably for long periods, ensuring economical operation.