Bungartz: New sealing principle
Bungartz V-AN centrifugal pumps are optimised through the use of a new seal.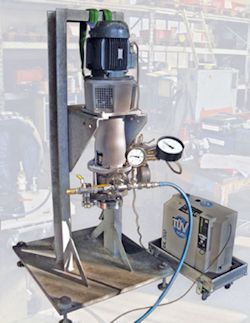 Bungartz
The conventional gas-lubricated mechanical seal is replaced by a lip seal. The required sealing gas volume flow and pressure values are within the normal ranges.
Approved: The new gas-sealed gasket was subjected to a helium leak test by the German technical inspection authority TÜV, and is approved under Germany's Technical Instructions on Air Quality Control.
Tried and tested: The sealing principle is already being used successfully. It has proven its effectiveness in the MPCH and MPCV dry-running magnetic drive pumps. The PTFE sealing lips are used upstream of the first bearing unit in order to protect it from the product gases. Sealing gas flows below them. In the event of the sealing gas supply failing, the sealing lips close. Situations that lead to immediate damage with gas-sealed mechanical seals are no longer dangerous with lip seals: dry running is possible for several hours. Further advantages are that the system is safe to use, low maintenance and cost-saving.